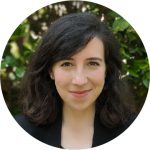 Assistant Professor 助理教授
Tel: 3917-7226
Email: lastra@hku.hk
Office: Room 10.16, Run Run Shaw Tower, Centennial Campus
BA, University of North Carolina at Chapel Hill; PhD University of Pennsylvania
Dr. Lastra teaches courses on the arts of medieval Europe, the Mediterranean, and the Islamic world. Her research focuses on northern Spanish art and society in the eleventh and twelfth centuries, addressing questions of urbanization, pilgrimage, and the dynamics of socially and religiously pluralistic communities. She has published in Studies in Iconography and is currently working on a book, On Art and Authority: A Biography of Medieval Carrión de los Condes, which explores the urbanization and artistic production of a prominent medieval city along the pilgrimage the Camino de Santiago de Compostela. She also employs digital technologies to expand the means by which we study and present art objects and monuments. Her web resource RomanesqueSpain.com provides digital access to sites in northern Spain through three-dimensional modeling and gigapixel photography. In 2015-16, she was the Swarzenski Fellow in the Department of Medieval Art and The Cloisters at the Metropolitan Museum of Art, and previously held Fulbright and Casa de Velázquez fellowships in Madrid.
Medieval Art and Architecture in Europe and the Islamic World
northern Spanish art and society in the 11th and 12th centuries
Selected Publications
Lastra, Elizabeth A. "Judgment, work, and social change: Reading a new spirituality in the sculpted laborers of santiago de carrión de los condes." Studies in Iconography 39 (2018): 167-206.
Lastra, Elizabeth A. "Carving Salvation into Stone on an Eleventh-Century Spanish Tomb." Paper presented at the International Medieval Congress (IMC): Special Thematic Strand: Materialities, University of Leeds, Leeds, UK, 1-4 July 2019.
Lastra, Elizabeth A. "Between Biblical and Political: The Reinvention of Samson in Twelfth-Century León-Castile." Paper presented at the 12th Biennial Conference of the Australian and New Zealand Association for Medieval and Early Modern Studies, Sydney, Australia, 5-8 February 2019.
Current Courses
FINE2103 Saintly bodies and holy shrines: the art and archiecture of medieval pilgrimage
FINE3024 Angels, demons, and beasts: Romanesque and Gothic art
Past Courses
FINE2065 Introduction to Islamic Art and Architecture
FINE2094 Medieval Art and Architecture
FINE3023 Is Spain Different? Spanish Art from the Visigoths to Picasso
PROFILE @ HKU Library