The Struggle of Spatial Politics
Artist-run Spaces and Pop-up Art Events from the mid-80s onwards
This satellite illustrates the organic relationship between artist-run spaces (ARS) and pop-up art events (PAE) in Hong Kong from the mid-80s onwards.[1] ARS and PAE overlap one another in terms of their site-specificity, non-permanency, and focus on artists, oftentimes appearing as responses to social events. Hence it would be apt to study the interrelationship between ARS and PAE from an experiential standpoint to shed light on how artists in Hong Kong were thinking about art in relation to space, how they contrived strategies to respond to societal changes. Another goal of this research is to create a spatial experience of ARS and PAE history. To do so, this presentation comprises a video walkthrough of the spatial-temporal distribution of ARS and PAE. This approach does not propose a single narrative that can be inserted inside an Art History canon—something that has yet to claim Hong Kong Art History. Rather, this project researches Hong Kong Art History by organising raw data of events and organisation, then plotting them on a map to study their progression pattern, eventually pinpointing traits of Hong Kong art that are worthy of further discussion.
Looking at the early history of ARS and PAE in Hong Kong, the two mirrored each other in terms of their position and development. Both ARS and PAE were alternate answers to the "standard" white-cube art discourse. Owing to institutional limitations such as repetitiveness of the exhibition model and lack of community engagement, artists from the mid-80s were keen to escape from conventional spaces to exhibit their works.[2] These spaces were categorized then as "alternative space" —a somewhat vague umbrella that describes the common ground for self-initiated art activities. Up until the 21st century, ARS in Hong Kong have demonstrated their plurality and individual focus, including but not limited to organizations like Videotage (1986), Quart Society (1990), Para Site (1996), and Museum of Site (1997). Similarly, the pre-2000 PAE addressed the same deficit of experiment opportunities. From the artist-initiated exhibition "Out of Context" (1997) to the "Save the Oil Street" movement in 1999, there is a yearning for independence within the art scene. A wish to be free from an established understanding of art and curatorial rigidity. Such a desire, although in protest at institutional frameworks, are often space-oriented. Space itself was a contested ground that artists and institutions vied for the right to speak and to be seen. Exhibiting seems to be an inextricable component of these PAE, a trait that was common to the institutions.
Gradually we see a rising wave of ARS and PAE emerging since early 2000. Unlike their predecessors, these projects were not mere vehicles for artists to experiment with non-institutional presentation but also projects dedicated to neighbourhood and local micro-politics. Starting from the benchmark of replacing oil street with cattle depot, artist groups have organised protest art events such as the movement against the demolition of Star Ferry Pier in 2006 and that of Queen's Ferry Pier in 2007. There was an apparent shift of concern from artistic format to the human-land relationship. Artists then were enthusiastic about using art as a guerilla tactic to disrupt a greater social agenda. That agenda was often in tension with public space, collective memory, and emotional attachment to land. The Times Square Incident in 2008 captures how different groups of artists were dedicating their effort to challenge an invisibly rigid understanding of space in a hypercapitalistic society.[3] The struggle between economic development and grassroots interest is further torn apart during the Anti-Hong Kong Express Rail Link Movement, eventually culminating in the Choi Yuen Tsuen Woodstock in 2011, which marked the single largest artistic intervention to a site-specific social issue. In the same year, the Occupy Central movement broke out. Debates around how artists can reclaim agency in the land-political struggle were heated. The format of occupation often predestines artists' method of participation. Artists functioning as public advocates had grown to be a less favourable path when the society felt misrepresented as a whole. The role of an artist faced a critical need of redefinition.
Remnants of Occupy Central reignited in 2014 in the form of the Umbrella movement. Occupation has acquired a new meaning when its duration is extended and happening explosively. In the Mong Kok occupation area, Wooferten launched an improvisational competition about designing cottages used in occupation.[4] The participatory art project invited the public to reimagine urban land use and its subsequent living style. Through these forms of PAE, artists lend themselves as mediators to a greater socio-political context. These experiences of short-term projects were preserved into long-term usage. Entering the post-umbrella era, Hong Kong art scene saw an abundance of ARS in the residential neighborhood, particularly around the West Kowloon area. Spaces like Things that can happen (2015) and PRÉCÉDÉE (2015) were notable examples of how ARS downsizes and infiltrate to a finer audience base. ARS in Hong Kong were developing in a direction of small to non-scale. This tendency was elevated to a different level in 2019 when the anti-extradition bill movement and Coronavirus pandemic broke out. Both the protest and pandemic lockdown prompted artists to conduct their projects in a fluid manner. This change of visual culture introduced more nuance to the boundary between ARS and PAE, rendering our previous understanding of space obsolete. It remains a curious subject of how the "new normal" would hold the future configuration of ARS and PAE in Hong Kong.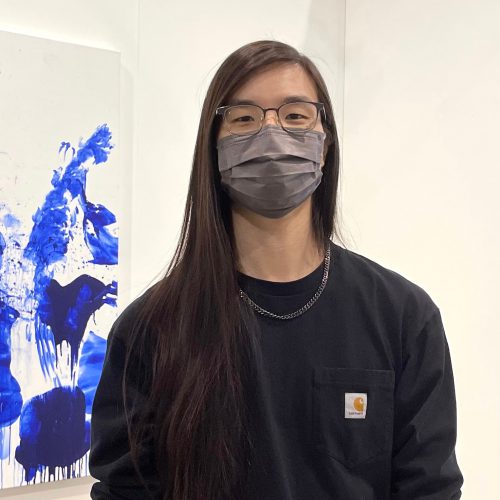 Lok Wong is a writer/ researcher/ curator graduated from the University of Hong Kong. His interest in non-institutional art activities led him into studying the transitional pattern of artist-run spaces. His recent projects involve developing exhibitions on a community basis, researching the independent art scene in Asia, and producing video content to educate the public on Modern Art History.