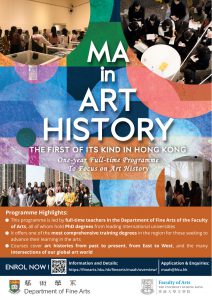 MA in Art History 2020-2021: Deadline extended
We are extending the application deadline for our new MA in Art History programme. Applications are welcomed until March 5, 2020 (Thursday) 12:00 noon (GMT +8). Please spread the word to anyone you think might be interested in the programme.
To apply, please click here.
For details, please click here.
Application deadline: 5 March 2020 (Thursday) 12:00 noon (GMT +8)