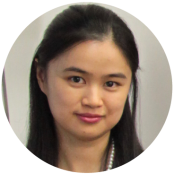 Assistant Professor 助理教授
RPg & Internship Coordinator
Tel: 3917-2613
Email: vksheng@hku.hk
Office: Room 10.20, Run Run Shaw Tower, Centennial Campus
BA Hunan University; MA Loughborough University; MA, PhD University of York
Vivian Sheng is a feminist art historian working on contemporary transnational art and visual culture. Her research investigates the intricate interrelation between women, domesticity and artistic practice in association with growing international travel and cross-cultural exchange, which significantly challenge any stable and absolute conception of home and place. Her current book project, Art, Women and Fantasies of 'Homemaking': Affective Domesticity, Embodied Habitation and Transcultural (Dis)identification, examines the practices of six women artists—Yin Xiuzhen, Fiona Tan, Mona Hatoum, Shen Yuan, Nikki S. Lee and On-Megumi Akiyoshi—from vastly different geopolitical backgrounds and working conditions, exploring the role of art in mediating issues of gender, place, identity and belonging. This research responds to the urgent need to reconsider women's contributions to the constitution and representation of sociocultural and geopolitical realities within the international art world beyond Euro-American centres. It introduces new content and theoretical paradigms to the ongoing construction of a feminist history of art, challenging normative discourses of social advancement, global capitalism and international migration, which often push women aside.
Contemporary Chinese and transnational art, Feminism and women making art
Chinese Avant-Garde art and importance of women's contributions
Selected Publications
"Yin Xiuzhen's Portable Cities: 'Homemaking' via Domestic Preservation," Third Text  36, no. 6 (2021).
"Multiple Selves: Nikki S. Lee's Projects," Index Journal, no. 1 (2020). DOI: HTTPS://DOI.ORG/10.38030/INDEX-JOURNAL.2020.1.6
"Yin Xiuzhen's Fluid Sites of Participation: A Communal Space of Communication and Antagonism," Yishu: Journal of Contemporary Chinese Art 16, no. 5 (2017): 65-77.
"Yin Xiuzhen's Fabric Cavities: Fabricating 'Strange Encounters," Sculpture Journal 23, no. 3 (2014): 393-402.
Conferences
"Fiona Tan's Provenance (2008): Inhabiting the world as a 'professional foreigner'", the Association for Art History (AAH) 2021 Annual Conference, Exiled and Female: Visualising Identity in the Work of Women Artists (Panel), Birmingham, UK, 14-17 April 2021.
"A Lapse of Memory: Fiona Tan's Moving Collage of Transcultural (Dis)identification," Queering Collage Online Symposium, Collage Research Network, London, UK, 3-4 December 2020.
"Shen Yuan's Aphasic 'Tongues': Speaking Out beyond Language Barriers," 2020 College Art Association (CAA) Annual Conference, Sounding to Power: Identity and Resistance in Contemporary Sound Art (Panel), Chicago, US, 12-15 February 2020.
"DRC NO.12: A 'Migratory' Space of Site-specificity and (Dis)identification," the annual conference of the European Artistic Research Network: Citation, University of Leeds, UK, 7-9 November 2019.
"'Fabricating' Social Conviviality: Yin Xiuzhen's Transcultural (Dis) identification," the Third Cultural Literacy in Europe Conference (CLE) Biennial Conference 2019: Cultural Literacy & Cosmopolitan Conviviality, Universidade Católica Portuguesa, Lisbon, Portugal, 9-11 May 2019.
"Yin Xiuzhen's Fabrication of 'Home': A Legacy of Caring and Domestic Preservation," Art Association of Australia & New Zealand (AAANZ) 2018 Annual Conference: Aesthetics, Politics and Histories: The Social Context of Art, Melbourne, Australia, 5-7 December 2018.