Fine Arts Interactive Visual Archive
FAIVA is the acronym for the Fine Arts Interactive Visual Archive. It is a digital image database first developed in 2000, upgraded in 2009 and further enhanced in 2012. The latest version is FAIVA4, revamped in 2019. Read more about the history of this department visual archive. Go >
Roles and Features
FAIVA provides a substantial pool of digital images for teaching and learning purposes. It includes images of various art forms from all over the world, including painting, sculpture, ceramic, print, drawing, metalwork, textile, architecture etc. Different search methods, such as by artists, by style and period, or by subject, are also available to cater for both entry-level and expert users.
Images of Asian art and architecture alone count up to 50,000 and more entries, some of which may not be easily located on the internet with reliable textual information. Basic facts for every image in FAIVA include:
title, with its original language wherever possible

site, with its original language wherever possible
Teachers can select and package these digital images with their corresponding textual information for download. The downloaded file will be in powerpoint presentation format where teachers can easily edit its visual and textual contents for a more customised use.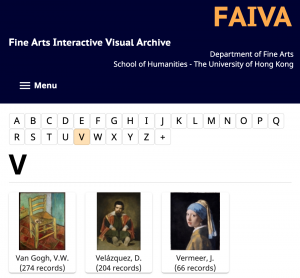 Access and Eligibility
All current HKU students and staff members with valid hkuportal accounts can access FAIVA on HKU intranet.
Its powerpoint download function is available to all HKU teaching staff (not necessarily within the Department of Art History). Please email us to apply for an account.