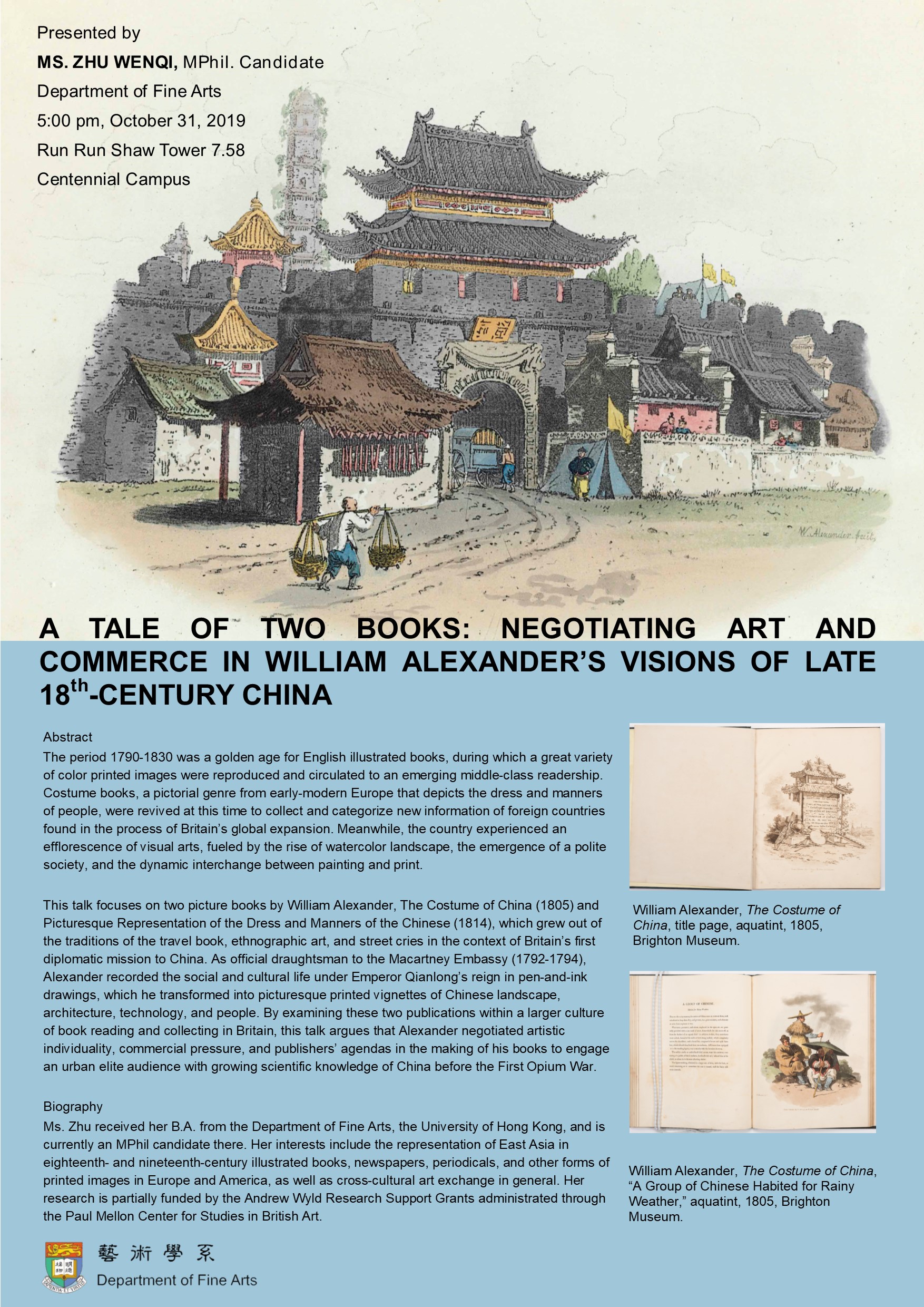 A Tale of Two Books
October 31, 2019 @ 5:00 pm

-

6:30 pm
A Tale of Two Books: Negotiating Art and Commerce in William Alexander's Visions of Late 18th-Century China
Date: 31 October 2019 (Thursday)
Time: 5:00pm
Venue: Room 7.58, Run Run Shaw Tower, Centennial Campus
The period 1790-1830 was a golden age for Egnlish illustrated books, during which a great variety of colour printed images were reproduced and circulated to an emerging middle-class readership. Costume books, a pictorial genre from early-modern Europe that depicts the dress and manners of people, were revived at this time to collect and categorize new information of foreign countries found in the process of Britain's global expansion. Meanwhile, the country experienced an efflorescence of visual arts, fueled by the rise of watercolor landscape, the emergence of a polite society, and the dynamic interchange between painting and print.
This talk focuses on two picture books by Willian Alexander, The Costume of China (1805) and Picturesque Representation of the Dress and Manners of the Chinese (1814), which grew out of the traditions of travel book, ethnographic art, and street cries in the context of Britain's first diplomatic mission to China. As official draughtsman to the Macartney Embassy (1792-1794), Alexander recorded the social and cultural life under Emperor Qianlong's reign in pen-and-ink drawings, which he transformed into picturesque printed vignettes of Chinese landscape, architecture, technology and people. By examining these two publications within a larger culture of book reading and collecting in Britain, this talk argues that Alexander negotiated artistic individuality, commercial pressure, and publishers' agendas in the making of his books to engage an urban elite audience with growing scientific knowledge of China before the First Opium War.
Speaker: Zhu Wenqi
Ms. Zhu received her BA from the Department of Fine Arts, the University of Hong Kong, and is currently an MPhil candidate there. Her interests include the representation of East Asia in eighteenth- and nineteenth-century illustrated books, newspapers, periodicals, and other forms of printed images in Europe and America, as well as cross-cultural art exchange in general. Her research is partially funded by the Andrew Wyld Research Support Grants administrated through the Paul Mellon Center for Studies in British Art.
Share this story!