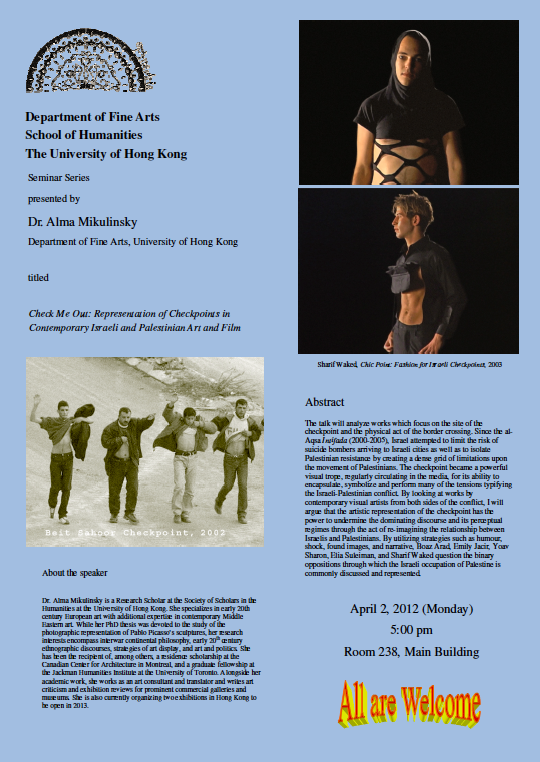 Check Me Out: Representation of Checkpoints in Contemporary Israeli and Palestinian Art and Film
April 2, 2012 @ 5:00 pm

-

6:30 pm
Check Me Out: Representation of Checkpoints in Contemporary Israeli and Palestinian Art and Film
Date: 2 April 2012 (Monday)
Time: 5:00pm
Venue: Room 2.38, Main Building, HKU
The talk will analyze works which focus on the site of the checkpoint and the physical act of the border crossing. Since the al-Aqsa Intifada (2000-2005), Israel attempted to limit the risk of suicide bombers arriving to Israeli cities as well as to isolate Palestinian resistance by creating a dense grid of limitations upon the movement of Palestinians. The checkpoint became a powerful visual trope, regularly circulating in the media, for its ability to encapsulate, symbolize and perform many of the tensions typifying the Israeli-Palestinian conflict. By looking at works by contemporary visual artists from both sides of the conflict, I will argue that the artistic representation of the checkpoint has the power to undermine the dominating discourse and its perceptual regimes through the act of re-imagining the relationship between Israelis and Palestinians. By utilizing strategies such as humour, shock, found images, and narrative, Boaz Arad, Emily Jacir, Yoav Sharon, Elia Suleiman, and Sharif Waked question the binary oppositions through which the Israeli occupation of Palestine is commonly discussed and represented.
Speaker: Alma Mikulinsky
Dr. Alma Mikulinsky is a Research Scholar at the Society of Scholars in the Humanities at the University of Hong Kong. She specializes in early 20th century European art with additional expertise in contemporary Middle Eastern art. While her PhD thesis was devoted to the study of the photographic representation of Pablo Picasso's sculptures, her research interests encompass interwar continental philosophy, early 20th century ethnographic discourses, strategies of art display, and art and politics. She has been the recipient of, among others, a residence scholarship at the Canadian Center for Architecture in Montreal, and a graduate fellowship at the Jackman Humanities Institute at the University of Toronto. Alongside her academic work, she works as an art consultant and translator and writes art criticism and exhibition reviews for prominent commercial galleries and museums. She is also currently organizing two exhibitions in Hong Kong to be open in 2013.
Share this story!