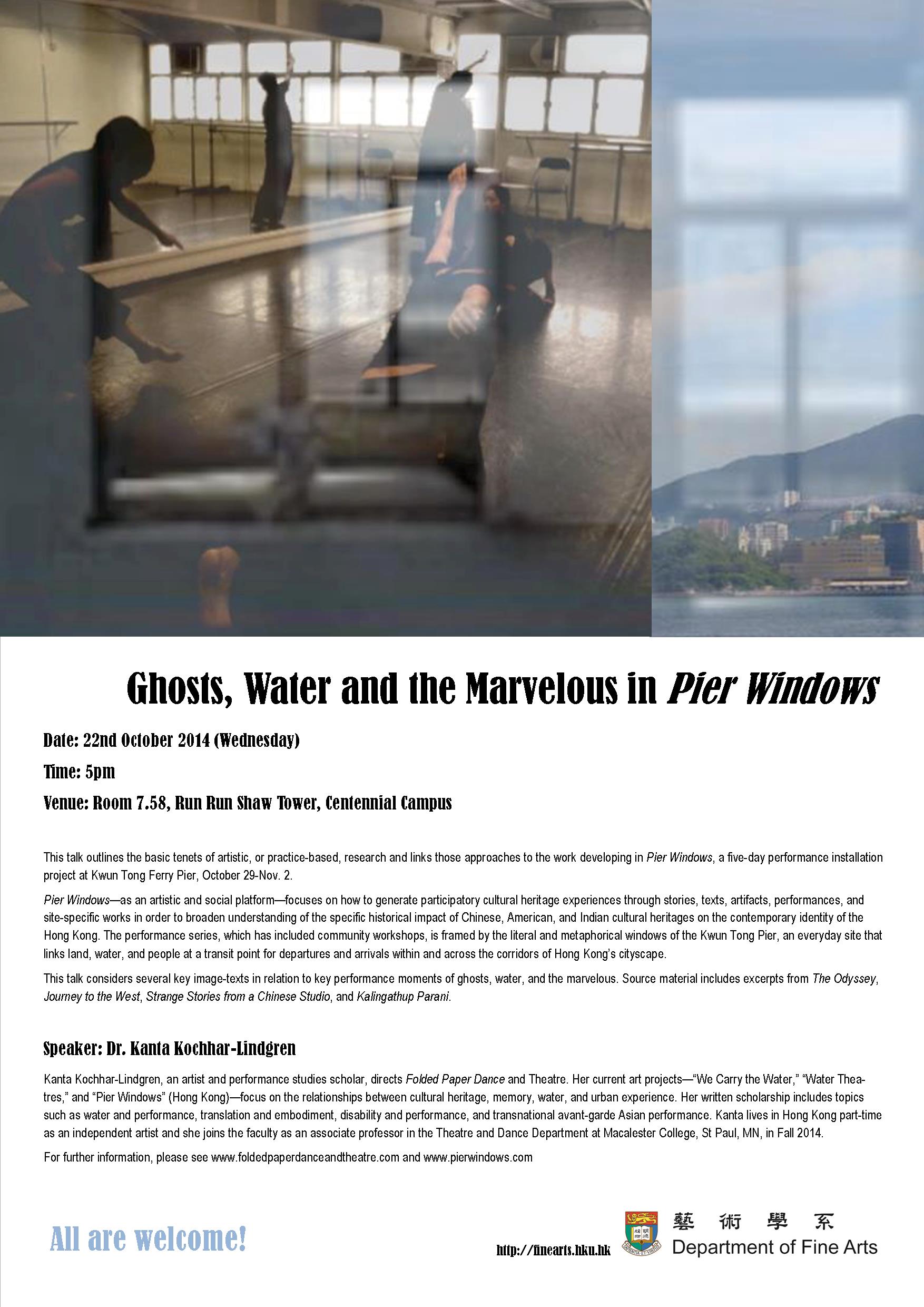 Ghosts, Water and the Marvelous in Pier Windows
October 22, 2014 @ 5:00 pm

-

6:30 pm
Ghosts, Water and the Marvelous in Pier Windows
Date: 22 October 2014 (Wednesday)
Time: 5:00-6:30pm
Venue: Room 7.58, Run Run Shaw Tower, Centennial Campus
This talk outlines the basic tenets of artistic, or practice-based, research and links those approaches to the work developing in Pier Windows, a five-day performance installation project at Kwun Tong Ferry Pier, October 29-Nov. 2.
Pier Windows—as an artistic and social platform—focuses on how to generate participatory cultural heritage experiences through stories, texts, artifacts, performances, and site-specific works in order to broaden understanding of the specific historical impact of Chinese, American, and Indian cultural heritages on the contemporary identity of Hong Kong. The performance series, which has included community workshops, is framed by the literal and metaphorical windows of the Kwun Tong Pier, an everyday site that links land, water, and people at a transit point for departures and arrivals within and across the corridors of Hong Kong's cityscape.
This talk considers several key image-texts in relation to key performance moments of ghosts, water, and the marvelous. Source material includes excerpts from The Odyssey, Journey to the West, Strange Stories from a Chinese Studio, and Kalingathup Parani.
Speaker: Kanta Kochhar-Lindgren
Kanta Kochhar-Lindgren, an artist and performance studies scholar, directs Folded Paper Dance and Theatre. Her current art projects – "We Carry the Water", "Water Theatres" and "Pier Windows" (Hong Kong) – focus on the relationships between cultural heritage, memory, water, and urban experience. Her written scholarship includes topics such as water and performance, translation and embodiment, disability and performance, and transnational avant-garde Asian performance. Kanta lives in Hong Kong part-time as an independent artist and she joins the faculty as an associate professor in the Theatre and Dance Department at Macalester College, St Paul, MN, in Fall 2014.
Share this story!