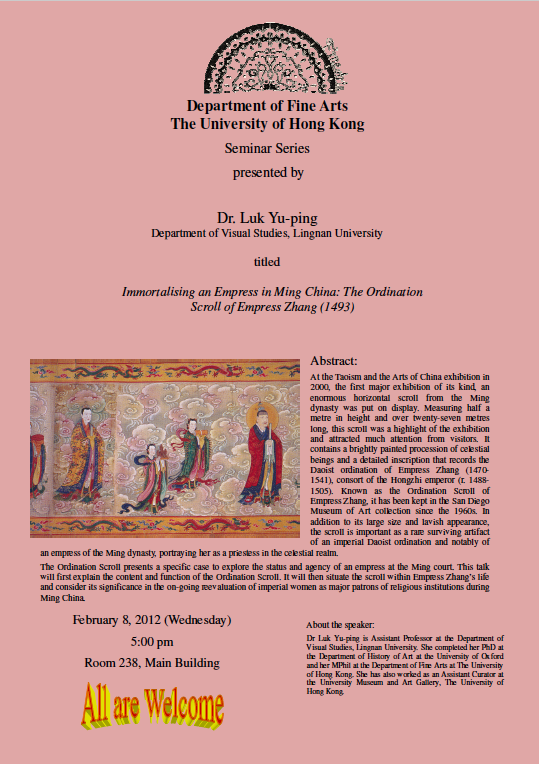 Immortalising an Empress in Ming China: The Ordination Scroll of Empress Zhang (1493)
February 8, 2012 @ 5:00 pm

-

6:30 pm
Immortalising an Empress in Ming China: The Ordination Scroll of Empress Zhang (1493)
Date: 8 February 2012 (Wednesday)
Time: 5:00pm
Venue: Room 2.38, Main Building, HKU
At the Taoism and the Arts of China exhibition in 2000, the first major exhibition of its kind, an enormous horizontal scroll from the Ming dynasty was put on display. Measuring half a metre in height and over twenty-seven metres long, this scroll was a highlight of the exhibition and attracted much attention from visitors. It contains a brightly painted procession of celestial beings and a detailed inscription that records the Daoist ordination of Empress Zhang (1470- 1541), consort of the Hongzhi emperor (r. 1488- 1505). Known as the Ordination Scroll of Empress Zhang, it has been kept in the San Diego Museum of Art collection since the 1960s. In addition to its large size and lavish appearance, the scroll is important as a rare surviving artifact of an imperial Daoist ordination and notably of an empress of the Ming dynasty, portraying her as a priestess in the celestial realm.
The Ordination Scroll presents a specific case to explore the status and agency of an empress at the Ming court. This talk will first explain the content and function of the Ordination Scroll. It will then situate the scroll within Empress Zhang's life and consider its significance in the on-going reevaluation of imperial women as major patrons of religious institutions during Ming China.
Speaker: Luk Yu-ping
Dr Luk Yu-ping is Assistant Professor at the Department of Visual Studies, Lingnan University. She completed her PhD at the Department of History of Art at the University of Oxford and her MPhil at the Department of Fine Arts at The University of Hong Kong. She has also worked as an Assistant Curator at the University Museum and Art Gallery, The University of Hong Kong.
Share this story!