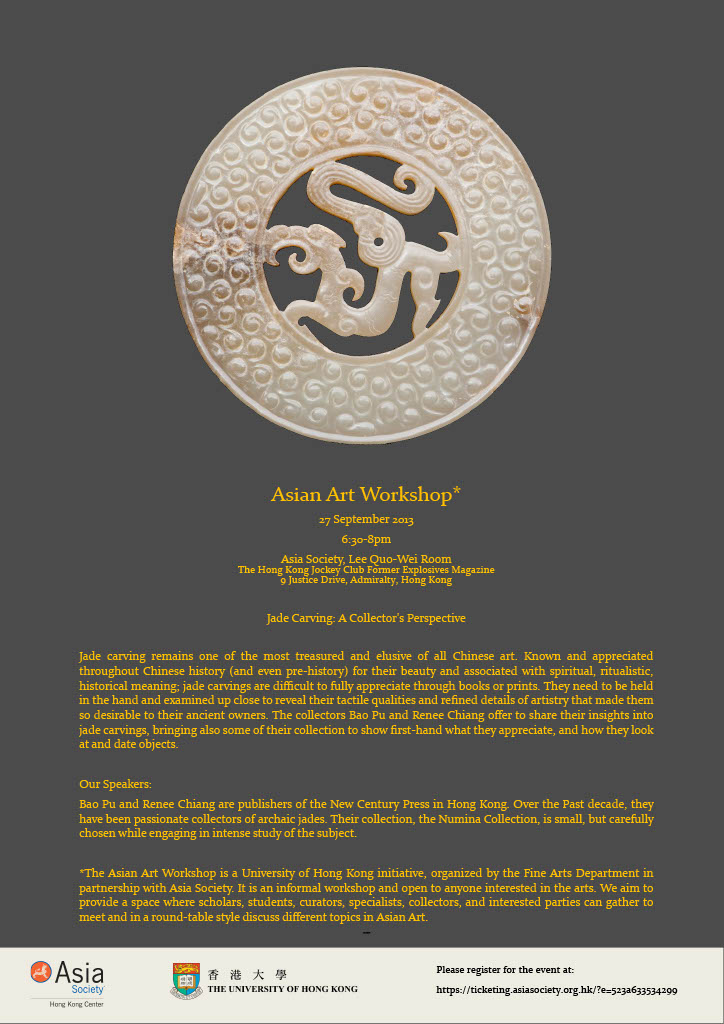 Jade Carving: A Collector's Perspective
September 27, 2013 @ 6:30 pm

-

8:00 pm
Asian Art Workshop: Jade Carving: A Collector's Perspective
Date: 27 September 2013 (Friday)
Time:  6:30-8:00pm
Venue: Lee Quo-Wei Room, Asia Society Hong Kong Center
Jade carving remains one of the most treasured and elusive of all Chinese art. Known and appreciated throughout Chinese history (and even pre-history) for their beauty and associated with spiritual, ritualistic, historical meaning; jade carvings are difficult to fully appreciate through books or prints. They need to be held in the hand and examined up close to reveal their tactile qualities and refined details of artistry that made them so desirable to their ancient owners. The collectors Bao Pu and Renee Chiang offer to share their insights into jade carvings, bringing also some of their collection to show first-hand what they appreciate, and how they look at and date objects.
Speaker: Bao Pu and Renee Chiang
Bao Pu and Renee Chiang are publishers of the New Century Press in Hong Kong. Over the Past decade, they have been passionate collectors of archaic jades. Their collection, the Numina Collection, is small, but carefully chosen while engaging in intense study of the subject.
*The Asian Art Workshop is a University of Hong Kong initiative, organized by the Fine Arts Department in partnership with Asia Society. It is an informal workshop and open to anyone interested in the arts. We aim to provide a space where scholars, students, curators, specialists, collectors, and interested parties can gather to meet and in a round-table style discuss different topics in Asian Art.
Share this story!