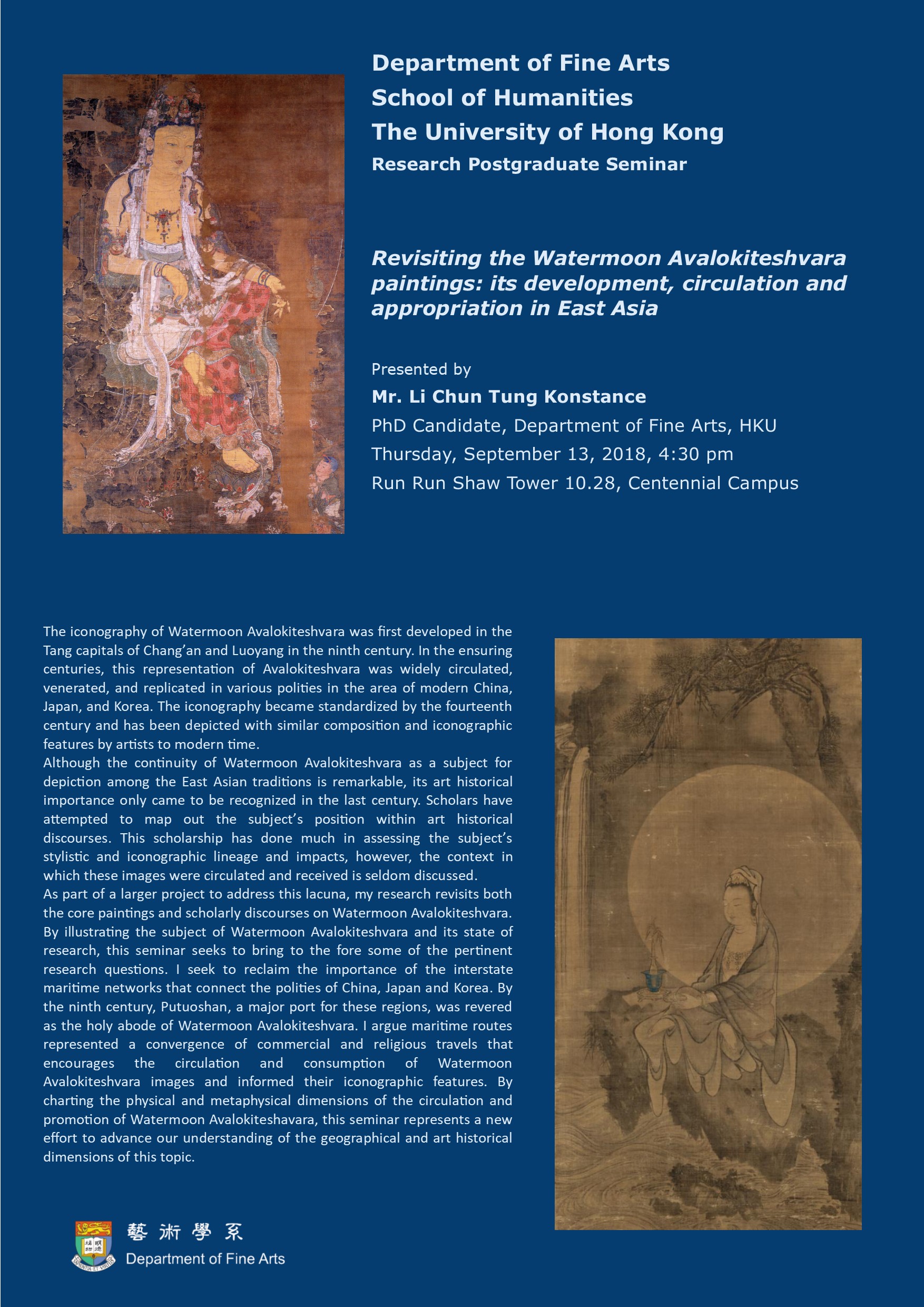 Revisiting the Watermoon Avalokiteshvara Paintings
September 13, 2018 @ 4:30 pm

-

6:00 pm
Revisiting the Watermoon Avalokiteshvara paintings: its development, circulation and appropriation in East Asia
Date: 13 September 2018 (Thursday)
Time: 4:30pm
Venue: Room 10.28, Run Run Shaw Tower, Centennial Campus
The iconography of Watermoon Avalokiteshvara was first developed in the Tang capitals of Chang'an and Luoyang in the ninth century. In the ensuring centuries, this representation of Avalokiteshvara was widely circulated, venerated, and replicated in various polities in the area of modern China, Japan, and Korea. The iconography became standardized by the fourteenth century and has been depicted with similar composition and iconographic features by artists to modern time.
Although the continuity of Watermoon Avalokiteshvara as a subject for depiction among the East Asian traditions is remarkable, its art historical importance only came to be recognized in the last century. Scholars have attempted to map out the subject's position within art historical discourses. This scholarship has done much in assessing the subject's stylistic and iconographic lineage and impacts, however, the context in which these images were circulated and received is seldom discussed.
As part of a larger project to address this lacuna, my research revisits both the core paintings and scholarly discourses on Watermoon Avalokiteshvara. By illustrating the subject of Watermoon Avalokiteshvara and its state of research, this seminar seeks to bring to the fore some of the pertinent research questions. I seek to reclaim the importance of the interstate maritime networks that connect the polities of China, Japan and Korea. By the ninth century, Putuoshan, a major port for these regions, was revered as the holy abode of Watermoon Avalokiteshvara. I argue maritime routes represented a convergence of commercial and religious travels that encourages the circulation and consumption of Watermoon Avalokiteshvara images and informed their iconographic features. By charting the physical and metaphysical dimensions of the circulation and promotion of  Watermoon Avalokiteshvara, this seminar represents a new effort to advance our understanding of the geographical and art historical dimensions of this topic.
Speaker: Li Chun Tung Konstance (PhD Candidate, Department of Fine Arts, HKU)
Share this story!