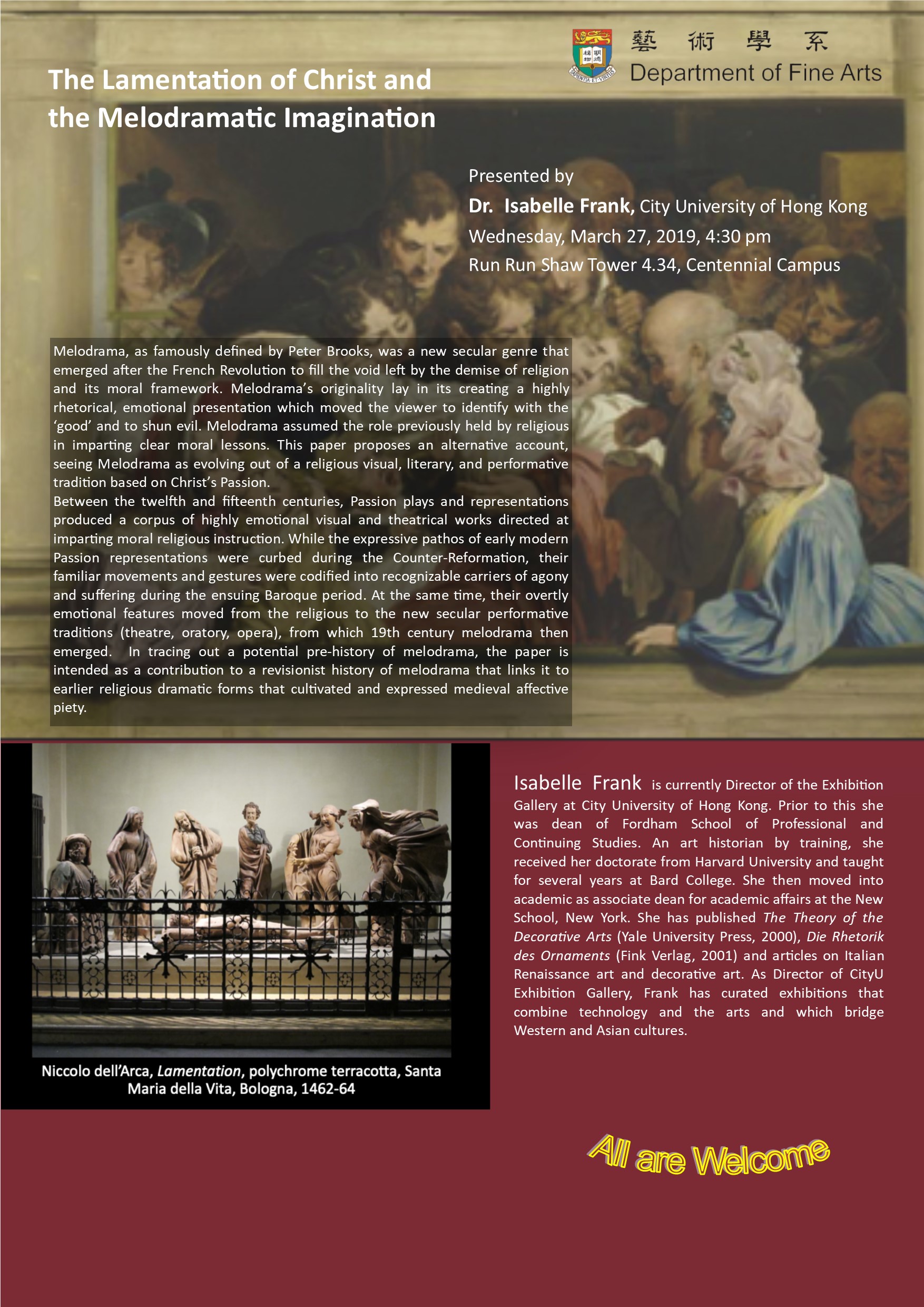 The Lamentation of Christ and the Melodramatic Imagination
March 27, 2019 @ 4:30 pm

-

6:00 pm
The Lamentation of Christ and the Melodramatic Imagination
Date: 27 March 2019 (Wednesday)
Time: 4:30pm
Venue: Room 4.34, Run Run Shaw Tower, Centennial Campus
Melodrama, as famously defined by Peter Brookes, was a new secular genre that emerged after the French Revolution to fill the void left by the demise of religion and its moral framework. Melodrama's originality lay in its creating a highly rhetorical, emotional presentation which moved the viewer to identify with the 'good' and to shun evil. Melodrama assumed the role previously held by religious in imparting clear moral lessons. This paper proposes an alternative account, seeing Melodrama as evolving out of a religious visual, literary, and performative tradition based on Christ's Passion.
Between the twelfth and fifteenth centuries, Passion plays and representations produced a corpus of highly emotional visual and theatrical works directed at imparting moral religious instruction. While the expressive pathos of early modern Passion representations were curbed during the Counter-Reformation, their familar movements and gestures were codified into recognizable carriers of agony and suffering during the ensuring Baroque period. At the same time, their overtly emotional features moved from the religious to the new secular performative traditions (theatre, oratory, opera), from which 19th century melodrama then emerged. In tracing out a potential pre-history of melodrama, the paper is intended as a contribution to a revisionist history of melodrama that links it to earlier religious dramatic forms that cultivated and expressed medieval affective piety.
Speaker: Isabelle Frank
Isabelle Frank is currently Director of the Exhibition Gallery at City University of Hong Kong. Prior to this she was dean of Fordham School of Professional and Continuing Studies. An art historian by training, she received her doctorate from Harvard University and taught for several years at Bard College. She then moved into academic as associate dean for academic affairs at the New School, New York. She has published The Theory of the Decorative Arts (Yale University Press, 2000), Die Rhetorik des Ornaments (Fink Verlag, 2001) and articles on Italian Renaissance art and decorative art. As Director of CityU Exhibition Gallery, Frank has curated exhibitions that combine technology and the arts and which bridge Western and Asian cultures.
Share this story!