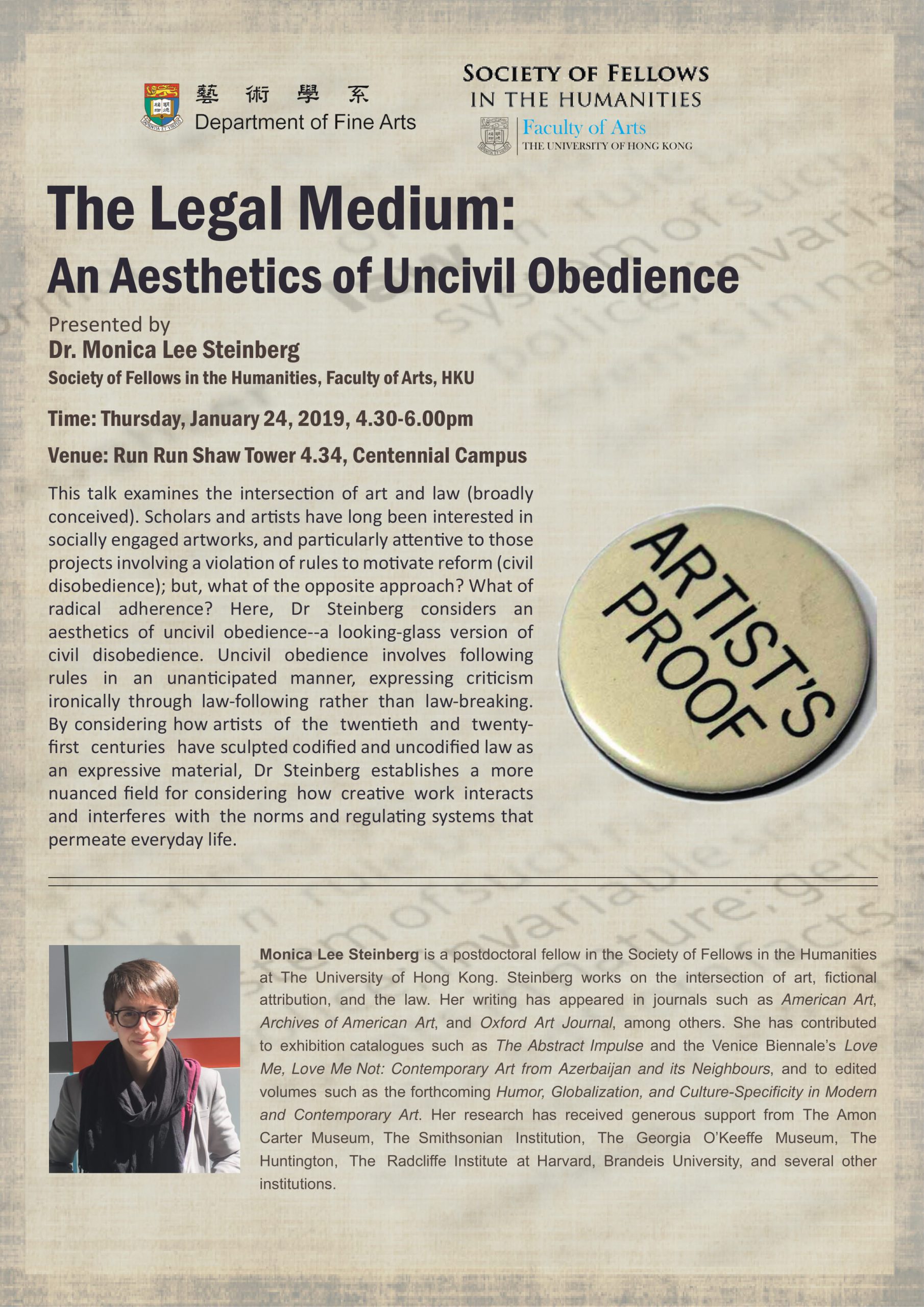 The Legal Medium: An Aesthetics of Uncivil Obedience
January 24, 2019 @ 4:30 pm

-

6:00 pm
The Legal Medium: An Aesthetics of Uncivil Obedience
Date: 24 January 2019 (Thursday)
Time: 4:30-6:00pm
Venue: Room 4.34, Run Run Shaw Tower, Centennial Campus
This talk examines the intersection of art and law (boardly conceived). Scholars and artists have long been interested in socially engaged artworks, and particularly attentive to those projects involving a violation of rules to motivate reform (civil disobedience); but, what of the opposite approach? What of radical adherence? Here, Dr Steinberg considers an aesthetics of uncivil obedience–a looking-glass version of civil disobedience. Uncivil obedience involves following rules in an unanticipated manner, expressing criticism ironically through law-following rather than law-breaking. By considering how artists of the twentieth and twenty-first centuries have sculpted codified and uncodified law as an expressive material, Dr. Steinberg establishes a more nuanced field for considering how creative work interacts and interferes with the norms and regulating systems that permeate everyday life.
Speaker: Monica Lee Steinberg
Monica Lee Steinberg is a postdoctoral fellow in the Society of Fellows in the Humanities at The University of Hong Kong. Steinberg works on the intersection of art, fictional attribution, and the law. Her writing has appeared in journals such as American Art, Archives of American Art, and Oxford Art Journal, among others. She has contributed to exhibition catalogues such as The Abstract Impulse and the Venice Biennale's Love Me, Love Me Not: Contemporary Art from Azerbaijan and its Neighbours, and to edited volumes such as the forthcoming Humor, Globalization, and Culture-Specificity in Modern and Contemporary Art. Her research has received generous support from The Amon Carter Museum, The Smithsonian Institution, The Georgia O'Keeffe Museum, The Huntington, The Radcliffe Institute at Harvard, Brandeis University and several other institutions.
Share this story!