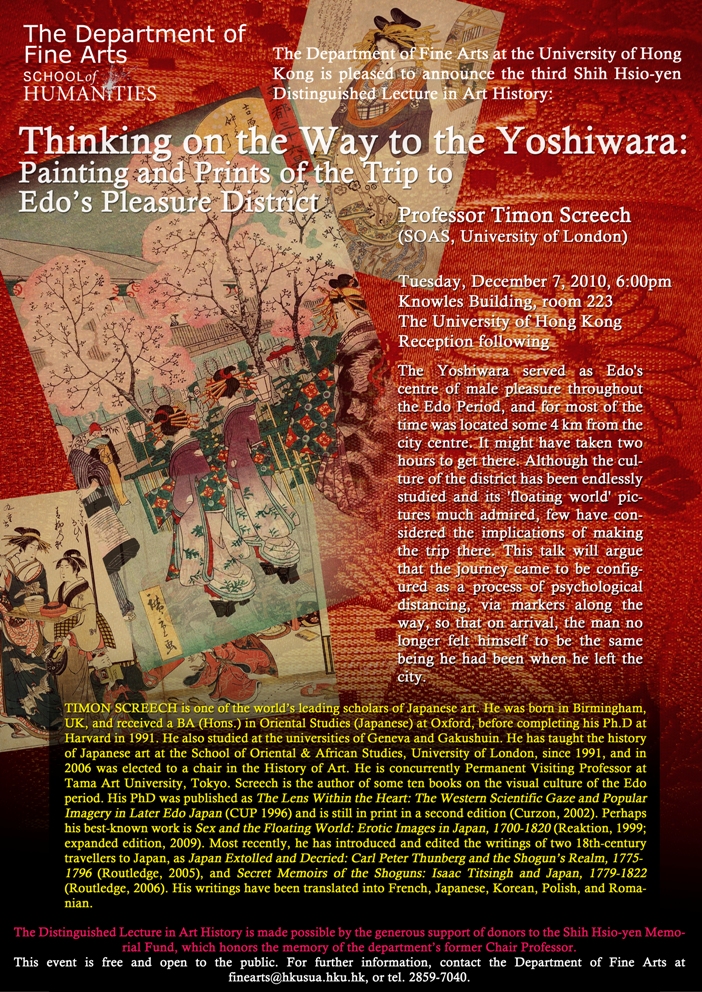 Thinking on the Way to the Yoshiwara: Painting and Prints of the Trip to Edo's Pleasure District
December 7, 2010 @ 6:00 pm

-

8:00 pm
The Shih Hsio-yen Distinguished Lecture in Art History series
Thinking on the Way to the Yoshiwara: Painting and Prints of the Trip to Edo's Pleasure District
Date: 7 December 2010 (Tuesday)
Time: 6:00pm
Venue: Rm 223, Knowles Building, HKU
The Yoshiwara served as Edo's centre of male pleasure throughout the Edo Period, and for most of the time was located some 4km from the city centre. It might have taken two hours to get there. Although the culture of the district has been endlessly studied and its 'floating world' pictures much admired, few have considered the implications of making the trip there. This talk will argue that the journey came to be configured as a process of psychological distancing, via markers along the way, so that on arrival, the man no longer felt himself to be the same being he had been when he left the city.
Speaker: Timon Screech
Timon Screech is one of the world's leading scholars of Japanese art. He was born in Birmingham, UK , and received a BA (Hons.) in Oriental Studies (Japanese) at Oxford, before completing his PhD at Harvard in 1991. He also studied at the universities of Geneva and Gakushuin. He has taught the history of Japanese art at the School of Oriental & African Studies, University of London, since 1991, and in 2006 was elected to a chair in the History of Art. He is concurrently Permanent Visiting Professor at Tama Art University, Tokyo. Screech is the author of some ten books on the visual culture of the Edo period. His PhD was published as The Lens Within the Heart: The Western Scientific Gaze and Popular Imagery in Later Edo Japan (CUP 1996) and is still in print in a second edition (Curzon, 2002). Perhaps his best-known work is Sex and the Floating World: Erotic Images in Japan, 1700-1820 (Reaktion, 1999; expanded edition, 2009). Most recently, he has introduced and edited the writings of two 18-century travellers. to Japan, as Japan Extolled and Decried: Carl Peter Thunberg and the Shogun's Realm, 1775-1796 (Routledge, 2005), and Secret Memoirs of the Shoguns: Isaac Titsingh and Japan, 1779-1822 (Routledge, 2006). His writing have been translated into French, Japanese, Korean, Polish and Romanian.
Share this story!