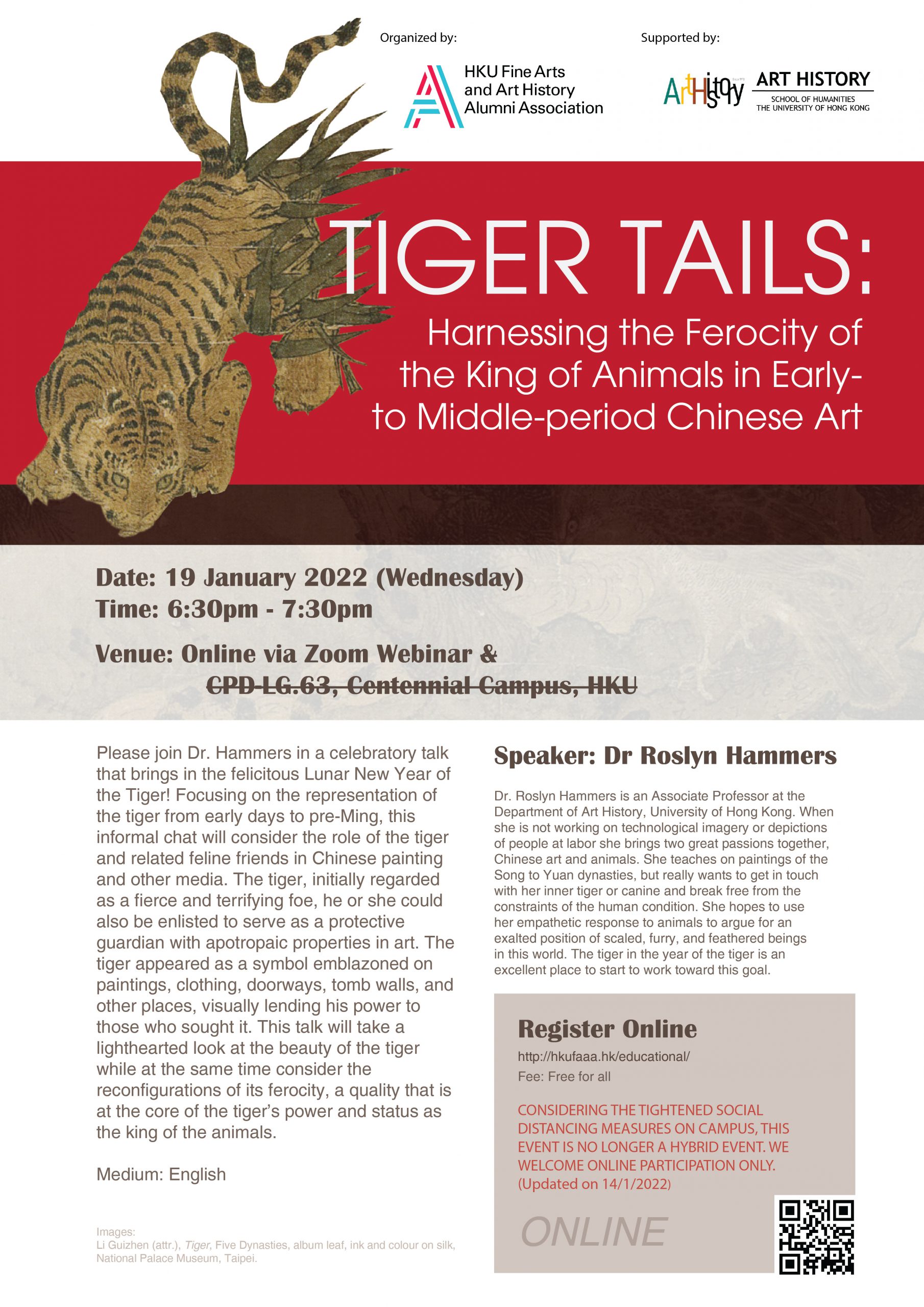 Tiger Tails
January 19, 2022 @ 6:30 pm

-

7:30 pm
This talk is co-organized by HKU Fine Arts and Art History Alumni Association and our Department, and is supported by HKU Museum Society
Tiger Tails: Harnessing the Ferocity of the King of Animals in Early- to Middle-period Chinese Art
Date: 19 January 2022 (Wednesday) 
Time: 6:30pm-7:30pm
Venue: Online via Zoom Webinar / CPD LG.63, Centennial Campus, HKU

CONSIDERING THE TIGHTENED SOCIAL DISTANCING MEASURES ON CAMPUS, THIS EVENT IS NO LONGER A HYBRID EVENT.
PARTICIPATION IS LIMITED TO ONLINE-ONLY. (Updated on 14/1/2022)
Advanced registration required: Click here *
Please join Dr. Roslyn Hammers in a celebratory talk that brings in the felicitous Lunar New Year of the Tiger! Focusing on the representation of the tiger from early days to pre-Ming, this informal chat will consider the role of the tiger and related feline friends in Chinese painting and other media. The tiger, initially regarded as a fierce and terrifying foe, he or she could also be enlisted to serve as a protective guardian with apotropaic properties in art. The tiger appeared as a symbol emblazoned on paintings, clothing, doorways, tomb walls, and other places, visually lending his power to those who sought it. This talk will take a lighthearted look at the beauty of the tiger while at the same time consider the reconfigurations of its ferocity, a quality that is at the core of the tiger's power and status as the king of the animals.
Speaker: Roslyn Hammers
Dr. Roslyn Hammers is an Associate Professor at the Department of Art History, University of Hong Kong. When she is not working on technological imagery or depictions of people at labor she brings two great passions together, Chinese art and animals. She teaches on paintings of the Song to Yuan dynasties, but really wants to get in touch with her inner tiger or canine and break free from the constraints of the human condition. She hopes to use her empathetic response to animals to argue for an exalted position of scaled, furry, and feathered beings in this world. The tiger in the year of the tiger is an excellent place to start to work toward this goal.
*Please note that HKU will introduce enhanced Covid-19 control measures. From 17 January 2022, anyone wishing to enter the campus will need either to be fully vaccinated or to take weekly self-tests.
Share this story!