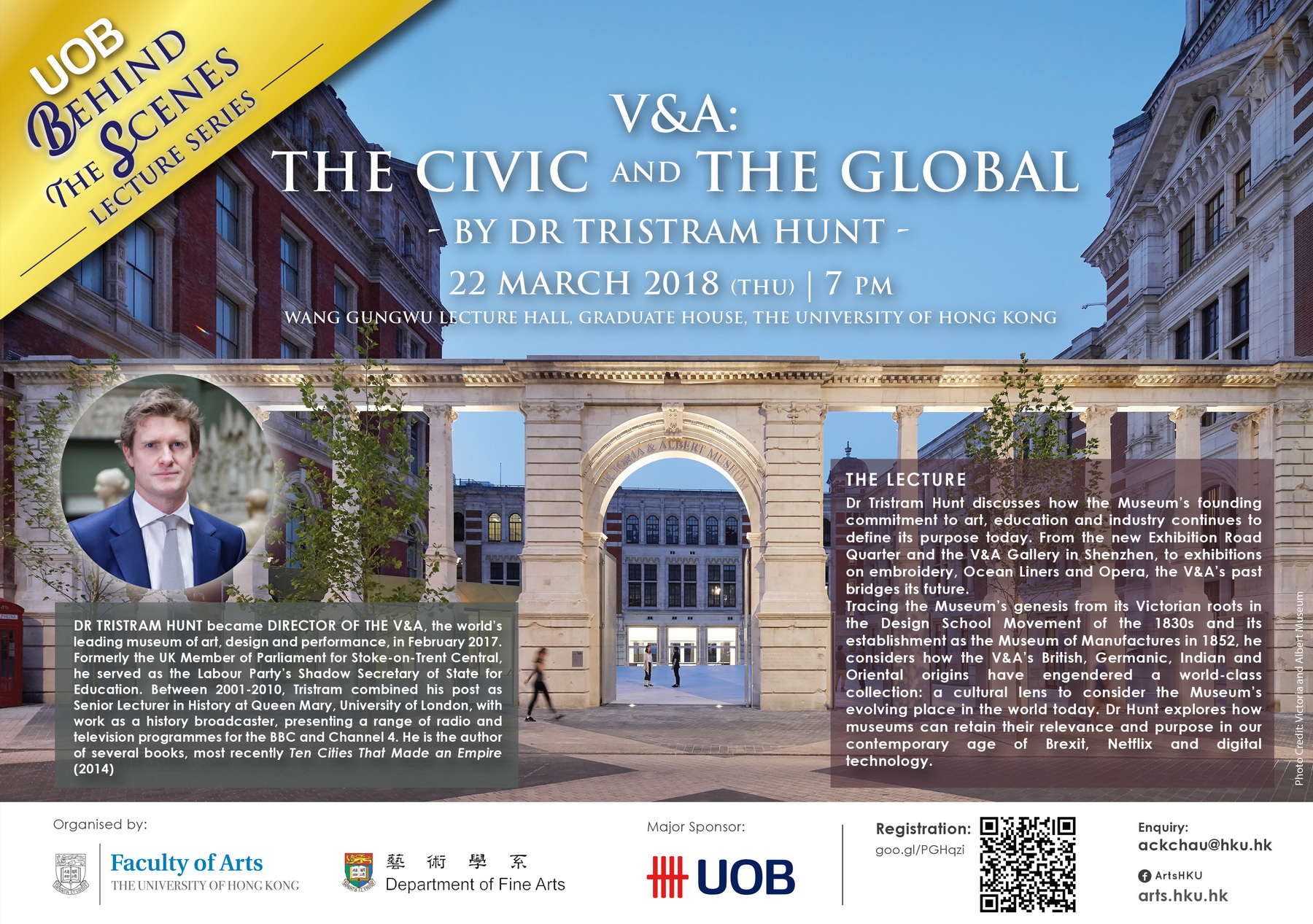 V&A: the Civic and the Global
March 22, 2018 @ 7:00 pm

-

9:00 pm
V&A: the Civic and the Global
Date: 22 March 2018 (Thursday)
Time: 7:00pm
Venue: Wang Gungwu Lecture Hall, Graduate House, HKU
Dr. Tristram Hunt discusses how the Museum's founding commitment to art, education and industry continues to define its purpose today. From the new Exhibition Road Quarter and the V&A Gallery in Shenzhen, to exhibitions on embroidery, Ocean Liners and Opera, the V&A's past bridges its future.
Tracing the Museum's genesis from its Victorian roots in the Design School Movement of the 1830s and its establishment as the Museum of Manufactures in 1852, he considers how the V&A's British, Germanic, Indian and Oriental origins have engendered a world-class collection: a cultural lens to consider the Museum's evolving place in the world today. Dr. Hunt explores how museums can retain their relevance and purpose in our contemporary age of Brexit, Netflix and digital technology.
Speaker: Tristram Hunt
Dr Tristram Hunt became Director of the V&A, the world's leading museum of art, design and performance, in February 2017. Formerly the UK Member of Parliament for Stake-on-Trent Central, he served as the Labour Party's Shadow Secretary of State for Education. Between 2001-2010, Tristram combined his post as Senior Lecturer in History at Queen Mary, University of London, with work as a history broadcaster, presenting a range of radio and television programmes for the BBC and Channel 4. He is the author of several books, most recently Ten Cities That Made an Empire (2014).
HKU Faculty of Arts' Behind the Scenes Lecture Series aims to bring high-profile speakers from the international art world such as artists, curators, art historians, directors of galleries or museums, auction house principals, conservators, to highlight the work of professionals who help to keep art accessible for audiences now and in the future, and to expand awareness of and appreciation for art. Our past speakers include Larry Keith, Keeper of Conservation from the National Gallery, London and Marie-Louise Sauerberg of Westminster Abbey.
Share this story!