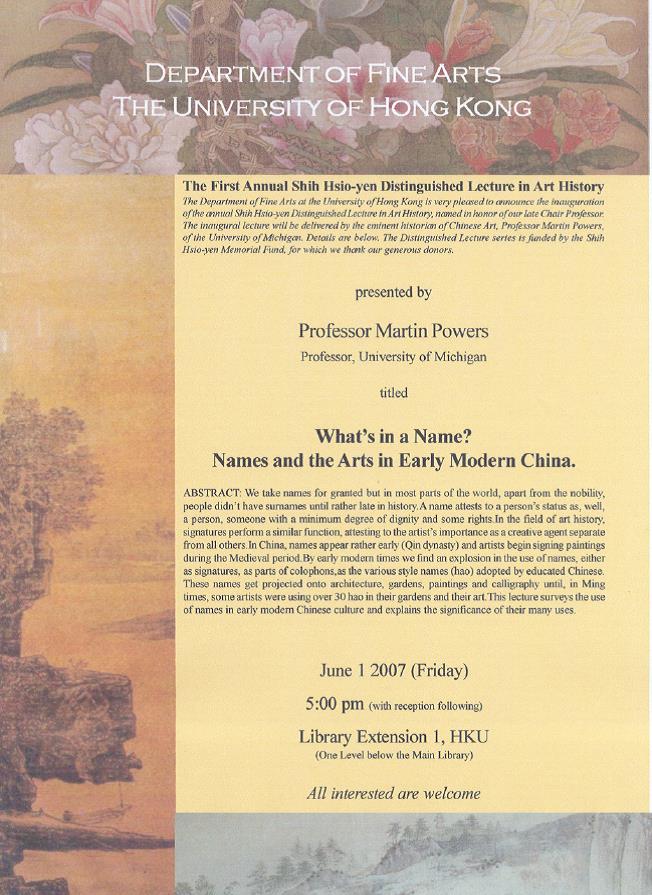 What's in a Name? Names and the Arts in Early Modern China
June 1, 2007 @ 5:00 pm

-

6:30 pm
The Shih Hsio-yen Distinguished Lecture in Art History series
The Department of Fine Arts of the University of Hong Kong is very pleased to announce the inauguration of the annual Shih Hsio-yen Distinguished Lecture in Art History, named in honor of our late Chair Professor. The inaugural lecture will be delivered by the eminent historian of Chinese Art, Professor Martin Powers, of the University of Michigan. Details are below. The Distinguished Lecture series is funded by the Shih Hsio-yen Memorial Fund, for which we thank our generous donors.
What's in a Name? Names and the Arts in Early Modern China
Date: 1 June 2007 (Friday)
Time: 5:00pm
Venue: Library Extension 1, HKU
Speaker: Prof. Martin Powers
ABSTRACT: We take names for granted but in most parts of the world, apart from the nobility, people didn't have surnames until rather late in history. A name attests to a person's status as, well, a person, someone with a minimum degree of dignity and some rights.  In the field of art history, signatures perform a similar function, attesting to the artist's importance as a creative agent separate from all others. In China, names appear rather early (Qin dynasty) and artists begin signing paintings during the Medieval period. By early modern times we find an explosion in the use of names, either as signatures, as part of colophons, as the various style names (hao) adopted by educated Chinese. These names get projected onto architecture, gardens, paintings and calligraphy until, in Ming times, some artists were using over 30 hao in their gardens and their art. This lecture surveys the use of names in early modern Chinese culture and explains the significance of their many uses.
Share this story!