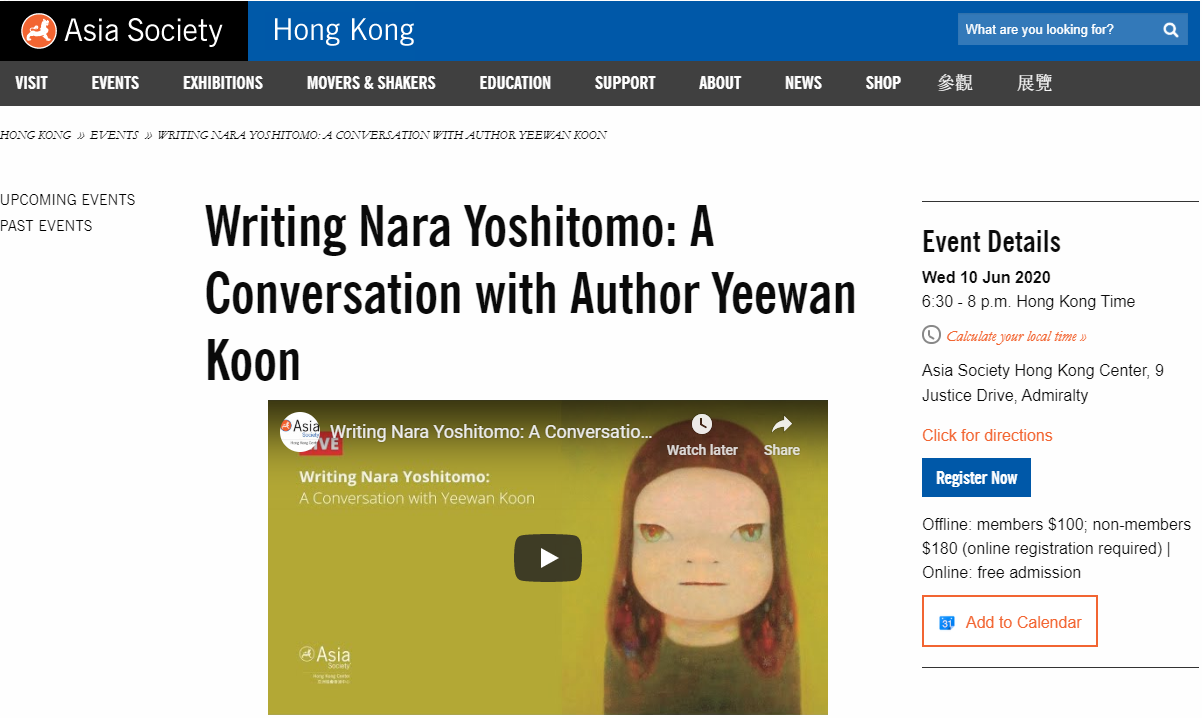 Writing Nara Yoshitomo
June 10, 2020 @ 6:30 pm

-

8:00 pm
Writing Nara Yoshitomo: A Conversation with Author Yeewan Koon
Drink Reception 6:30pm
Discussion 7:00pm
Close 8:00pm
Yeewan Koon, author of Nara Yoshitomo (Phaidon, 2020), will join us in an evening conversation together with Elaine Kwok and Alexandra Seno to discuss this first-ever monograph on the internationally acclaimed artist, which has been described by New York Magazine as "a definitive work". In this talk, Koon shares her experience of working with Nara, how she set about to understand his practice, and how she looks at some of his most iconic works.
Admission
Offline (join in person, registration required): Members $100; Non-members $180, Price includes a free copy of Life is Only One: Yoshitomo Nara 2015 Exhibition Catalogue by ASHK.
Online (via Facebook/ Youtube): free admission
Speakers
Yeewan Koon is Associate Professor and Chair of the Fine Arts Department at the University of Hong Kong. She has received awards from Fulbright, American Council of Learned Scholars and as Mary Griggs visiting scholar at Columbia University. Her interest in how art scrutinises social and human values led to her book A Defiant Brush: Su Renshan and the Politics of Painting in 19th century Guangdong (2013). She has also curated exhibitions including It Begins with Metamorphosis: Xu Bing at Asia Society, Hong Kong Centre (2014), and Faultlines as part of the 12th Gwangju Biennale (2018). She is currently completing her work on the conceit of copies in Ming China, and planning the first group show of Hong Kong art in Finland.
As Director, Chairman's Office and Auctioneer, Elaine Kwok is responsible for business development and top client relationships in Asia. Before joining the Chairman's Office, Kwok ran Christie's Education in Asia, a programme she started in 2010 to inspire collectors and enthusiasts to engage with the art world. In 2018 Kwok sold Wood and Rock by Su Shi for US$60 million, the most expensive work of art that Christie's has ever sold in Asia. Kwok became the first Christie's auctioneer to pass the China auctioneer license exam in 2015. A Hong Kong native, she holds a BA from Harvard University, an MA from School of Oriental and African Studies, University of London, and an MBA from Stanford University.
Alexandra Seno is Head of Development at Asia Art Archive. An art critic for RTHK Radio 4, she has served on the executive committee of the Oriental Ceramics Society of Hong Kong, the board of Para Site Art Space, and as adviser to non-profits Spring Workshop in Hong Kong and Calle Wright in Manila. She has written about culture and the economics of culture for publications including the New York Times, the Wall Street Journal, Newsweek Magazine, The Art Newspaper and Architectural Record Magazine.
Share this story!