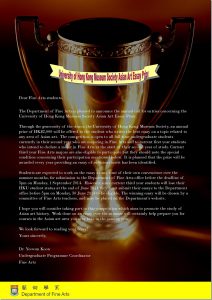 Asian Art Essay in Competition 2013-2014
This is a call for entries for the annual University of Hong Kong Museum Society Asian Art Essay Prize.
A prize of HK$2,000 will be offered to the winner.
Click to read previous winning essays:
– 2012-2013
– 2011-2012
The competition is open to all current full-time undergraduate students, including:
– 1st year students, who intend to declare a major in Fine Arts;
– 2nd year students, who are majoring in Fine Arts;
– 3rd year Fine Arts majors, given that they submit the essay before their HKU student status expires.
Deadlines:
– Monday 30 June 2014, 5pm (3rd year students)
– Monday 1 September 2014, 5pm (1st & 2nd year students)
Please click onto the image for details.