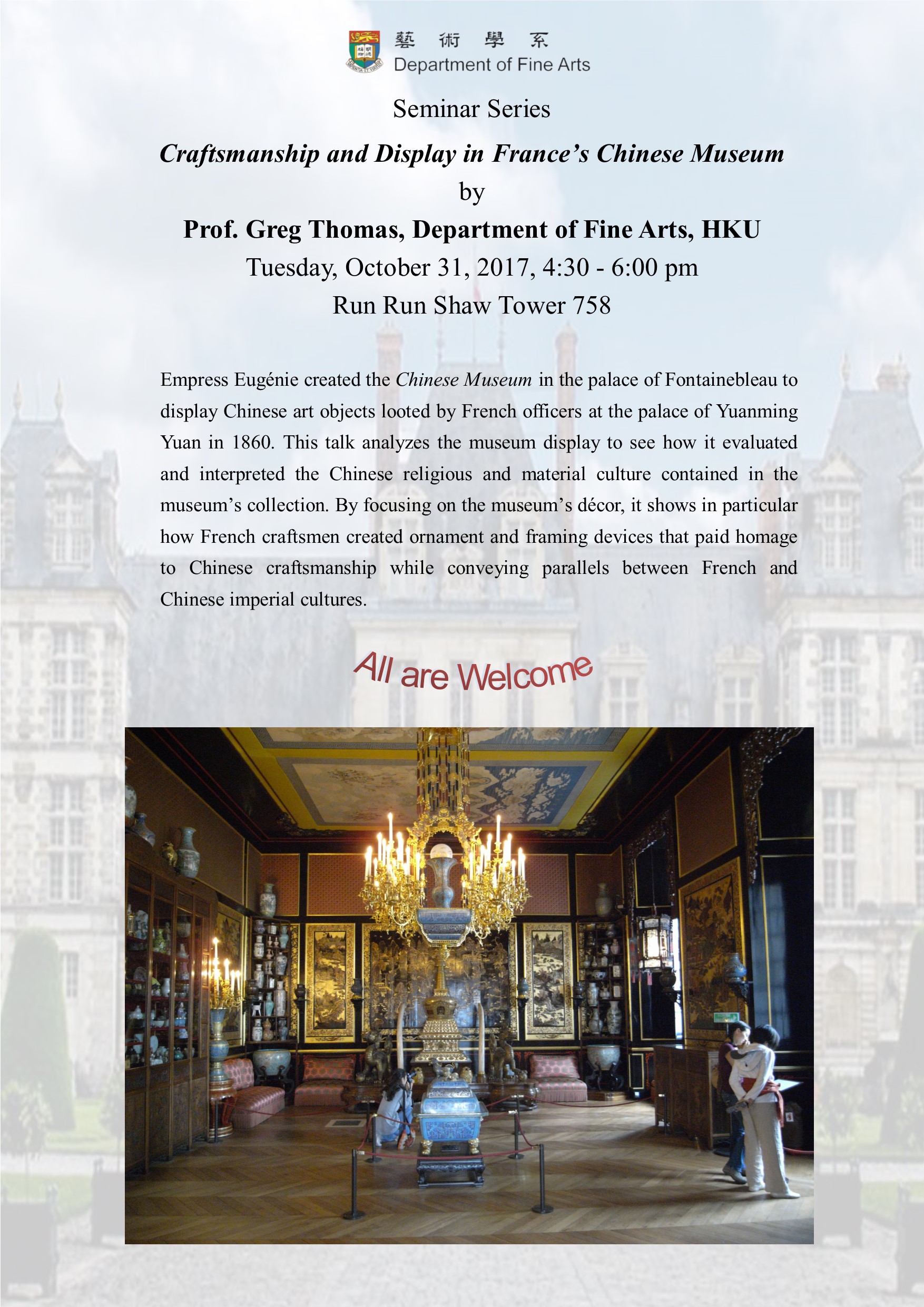 Craftsmanship and Display in France's Chinese Museum
October 31, 2017 @ 4:30 pm

-

6:00 pm
Craftsmanship and Display in France's Chinese Museum
Date: 31 October 2017 (Tuesday)
Time: 4:30-6:00pm
Venue: Room 7.58, Run Run Shaw Tower, Centennial Campus
Empress Eugénie created the Chinese Museum in the palace of Fontainebleau to display Chinese art objects looted by French officers at the palace of Yuanming Yuan in 1860. This talk analyzes the museum display to see how it evaluated and interpreted the Chinese religious and material culture contained in the museum's collection. By focusing on the museum's décor, it shows in particular how French craftsmen created ornament and framing devices that paid homage to Chinese craftsmanship while conveying parallels between French and Chinese imperial cultures.
Speaker: Greg Thomas
Prof. Thomas teaches various aspects of European and American art and architecture from the 18th to 20th centuries, as well as the first-year survey of western art. A specialist in 19th-century French art, he has published Art and Ecology in Nineteenth-Century France: The Landscapes of Théodore Rousseau (Princeton, 2000) and Impressionist Children: Childhood, Family, and Modern Identity in French Art (Yale, 2010). Recent research has focused on artistic interactions between Europe and China in the 18th and 19th centuries, part of a long-term study of the Chinese palace of Yuanming Yuan. He has published two major articles on Yuanming Yuan and its looting (in Nineteenth-Century Art Worldwide, Autumn 2008; and in Art History, February 2009), along with other essays on landscape painting and ecology, Impressionism, and French and British engagement with Chinese culture. He is also the assistant editor of the 13-volume Wuming (No Name) Painting Catalogue, (Hong Kong University Press, 2010), which surveys the Wuming group of painters active in Beijing in the 1970s.
Share this story!