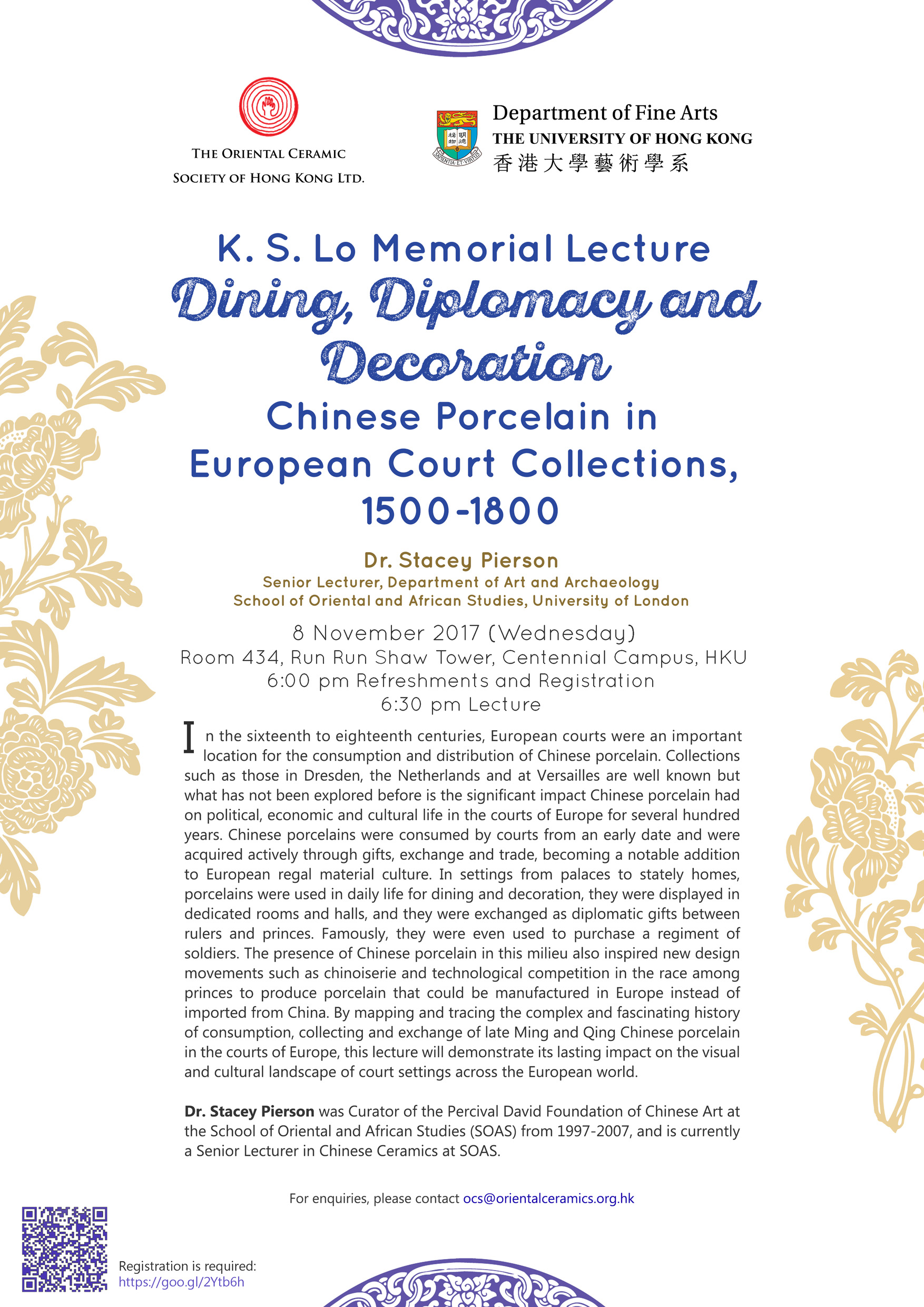 Dining, Diplomacy and Decoration
November 8, 2017 @ 6:00 pm

-

8:00 pm
Dining, Diplomacy and Decoration: Chinese Porcelain in European Court Collections, 1500-1800
Date: 8 November 2017 (Wednesday)
Time: 6:00-8:00pm
Venue: Room 4.34, Run Run Shaw Tower, Centennial Campus
In the sixteenth to eighteenth centuries, European courts were an important location for the consumption and distribution of Chinese porcelain. Collections such as those in Dresden, the Netherlands and at Versailles are well known but what has not been explored before is the significant impact Chinese porcelain had on political, economic and cultural life in the courts of Europe for several hundred years. Chinese porcelains were consumed by courts from an early date and were acquired actively through gifts, exchange and trade, becoming a notable addition to European regal material culture. In setings from palaces to stately homes, porcelains were used in daily life for dining and decoration, they were displayed in dedicated rooms and halls, and they were exchanged as diplomatic gifts between rulers and princes. Famously, they were even used to purchase a regiment of soldiers. The presence of Chinese porcelain in this milieu also inspired new design movements such as chinoiserie and technological competition in the race among prices to produce porcelain that could be manufactured in Europe instead of imported from China. By mapping and tracing the complex and fascinating history of consumption, collecting and exchange of late Ming and Qing Chinese porcelain in the courts of Europe, this lecture will demonstrate its lasting impact on the visual and cultural landscape of court settings across the European world.
Speaker: Stacey Pierson
Dr. Pierson was Curator of the Percival David Foundation of Chinese Art at the School of Oriental of African Studies (SOAS) from 1997-2007, and is currently a Senior Lecturer in Chinese Ceramics at SOAS.
Share this story!