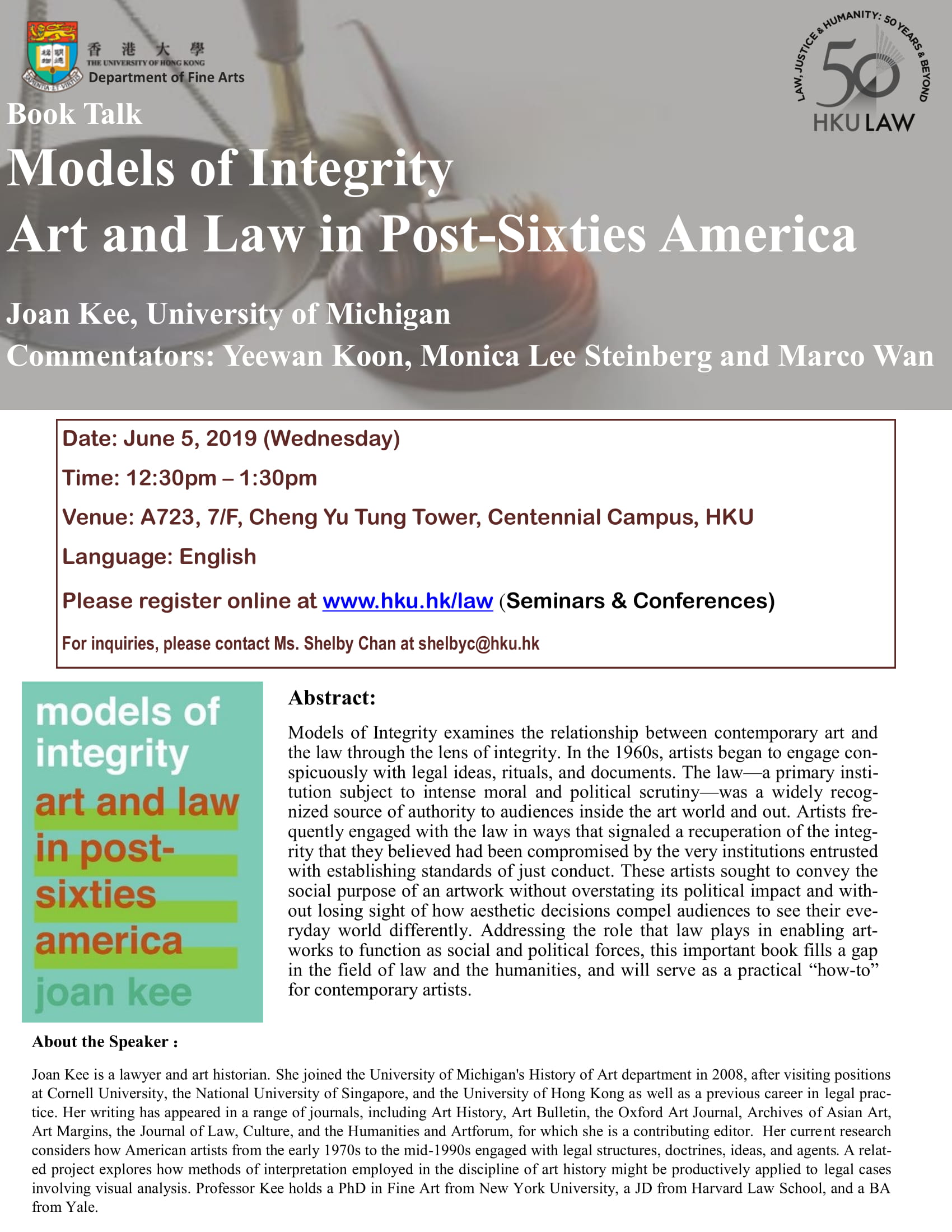 Models of Integrity: Art and Law in Post-Sixties America
June 5, 2019 @ 12:30 pm

-

1:30 pm
Book Talk: Models of Integrity: Art and Law in Post-Sixties America
Date: 5 June 2019 (Wednesday)
Time: 12:30pm
Venue: A723, 7/F, Cheng Yu Tung Tower, Centennial Campus
Registration: online (go to Seminars & Conferences)
Models of Integrity examines the relationship between contemporary art and the law through the lens of integrity. In the 1960s, artists began to engage conspicuously with legal ideas, rituals, and documents. The law—a primary institution subject to intense moral and political scrutiny—was a widely recognized source of authority to audiences inside the art world and out. Artists frequently engaged with the law in ways that signaled a recuperation of the integrity that they believed had been compromised by the very institutions entrusted with establishing standards of just conduct. These artists sought to convey the social purpose of an artwork without overstating its political impact and with-out losing sight of how aesthetic decisions compel audiences to see their everyday world differently. Addressing the role that law plays in enabling art-works to function as social and political forces, this important book fills a gap in the field of law and the humanities, and will serve as a practical "how-to" for contemporary artists.
Speaker: Joan Kee
Joan Kee is a lawyer and art historian. She joined the University of Michigan's History of Art department in 2008, after visiting positions at Cornell University, the National University of Singapore, and the University of Hong Kong as well as a previous career in legal prac-tice. Her writing has appeared in a range of journals, including Art History, Art Bulletin, the Oxford Art Journal, Archives of Asian Art, Art Margins, the Journal of Law, Culture, and the Humanities and Artforum, for which she is a contributing editor. Her current research considers how American artists from the early 1970s to the mid-1990s engaged with legal structures, doctrines, ideas, and agents. A relat-ed project explores how methods of interpretation employed in the discipline of art history might be productively applied to legal cases involving visual analysis. Professor Kee holds a PhD in Fine Art from New York University, a JD from Harvard Law School, and a BA from Yale.
Commentators: Yeewan Koon, Monica Lee Steinberg and Marco Wan
Share this story!