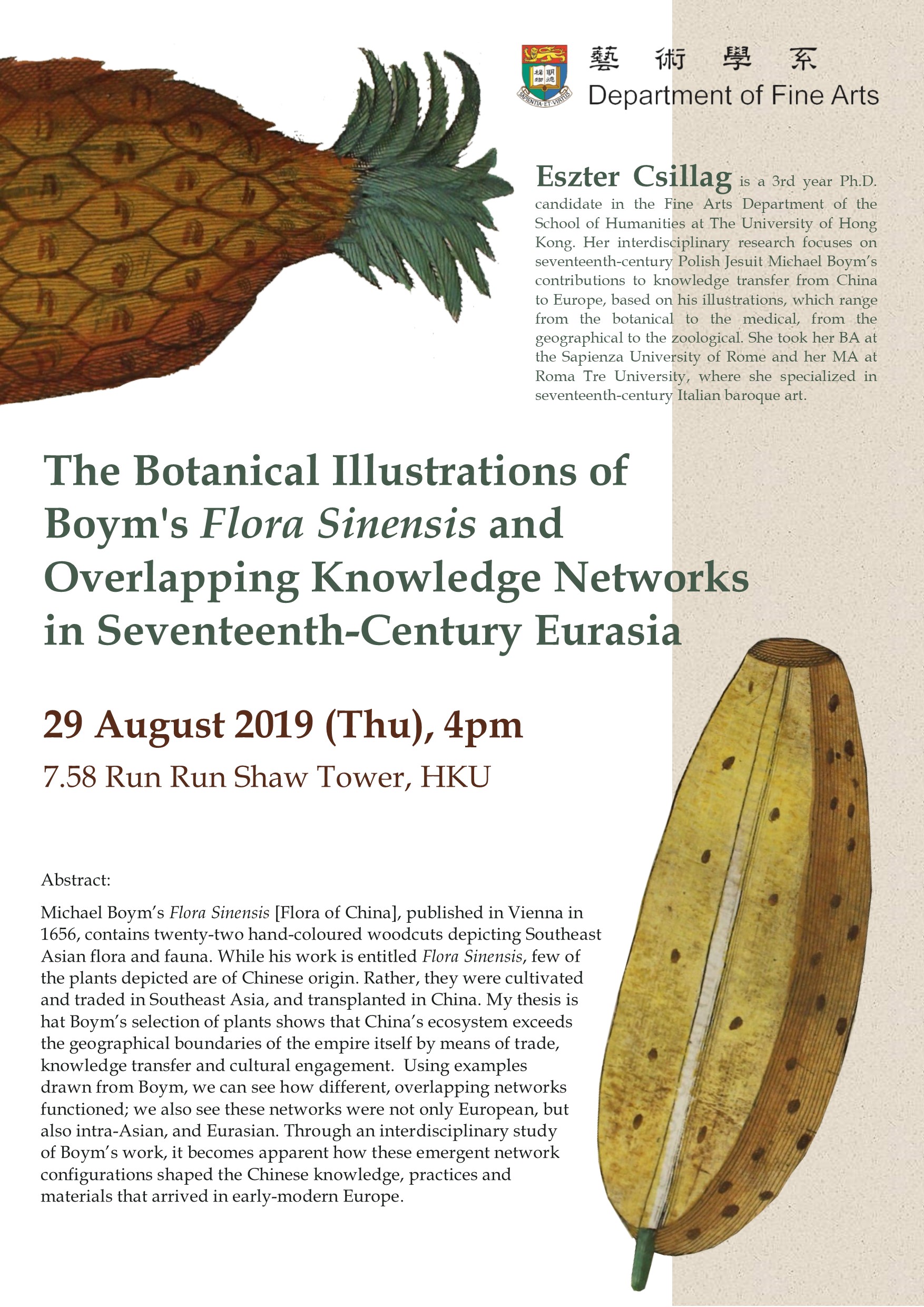 The Botanical Illustrations of Boym's Flora Sinensis and Overlapping Knowledge Networks in Seventeenth-Century Eurasia
August 29, 2019 @ 4:00 pm

-

5:30 pm
The Botanical Illustrations of Boym's Flora Sinensis and Overlapping Knowledge Networks in Seventeenth-Century Eurasia
Date: 29 August 2019 (Thursday)
Time: 4:00pm
Venue: Room 7.58, Run Run Shaw Tower, Centennial Campus
Michael Boym's Flora Sinensis [Flora of China], published in Vienna in 1656, contains twenty-two hand-coloured woodcuts depicting Southeast Asian flora and fauna. While his work is entitled Flora Sinensis, few of the plants depicted are of Chinese origin. Rather, they were cultivated and traded in Southeast Asia, and transplanted in China. My thesis is hat Boym's selection of plants shows that China's ecosystem exceeds the geographical boundaries of the empire itself by means of trade, knowledge transfer and cultural engagement. Using examples drawn from Boym, we can see how different, overlapping networks functioned; we also see these networks were not only European, but also intra-Asian, and Eurasian. Through an interdisciplinary study of Boym's work, it becomes apparent how these emergent network configurations shaped the Chinese knowledge, practices and materials that arrived in early-modern Europe.
Speaker: Eszter Csillag
Eszter Csillag is a 3rd year PhD candidate in the Fine Arts Department of the School of Humanities at The University of Hong Kong. Her interdisciplinary research focuses on seventeenth-century Polish Jesuit Michael Boym's contributions to knowledge transfer from China to Europe, based on his illustrations, which range from the botanical to the medical, from the geographical to the zoological. She took her BA at the Sapienza University of Rome and her MA at Roma Tre University, where she specialized in seventeenth-century Italian baroque art.
Share this story!