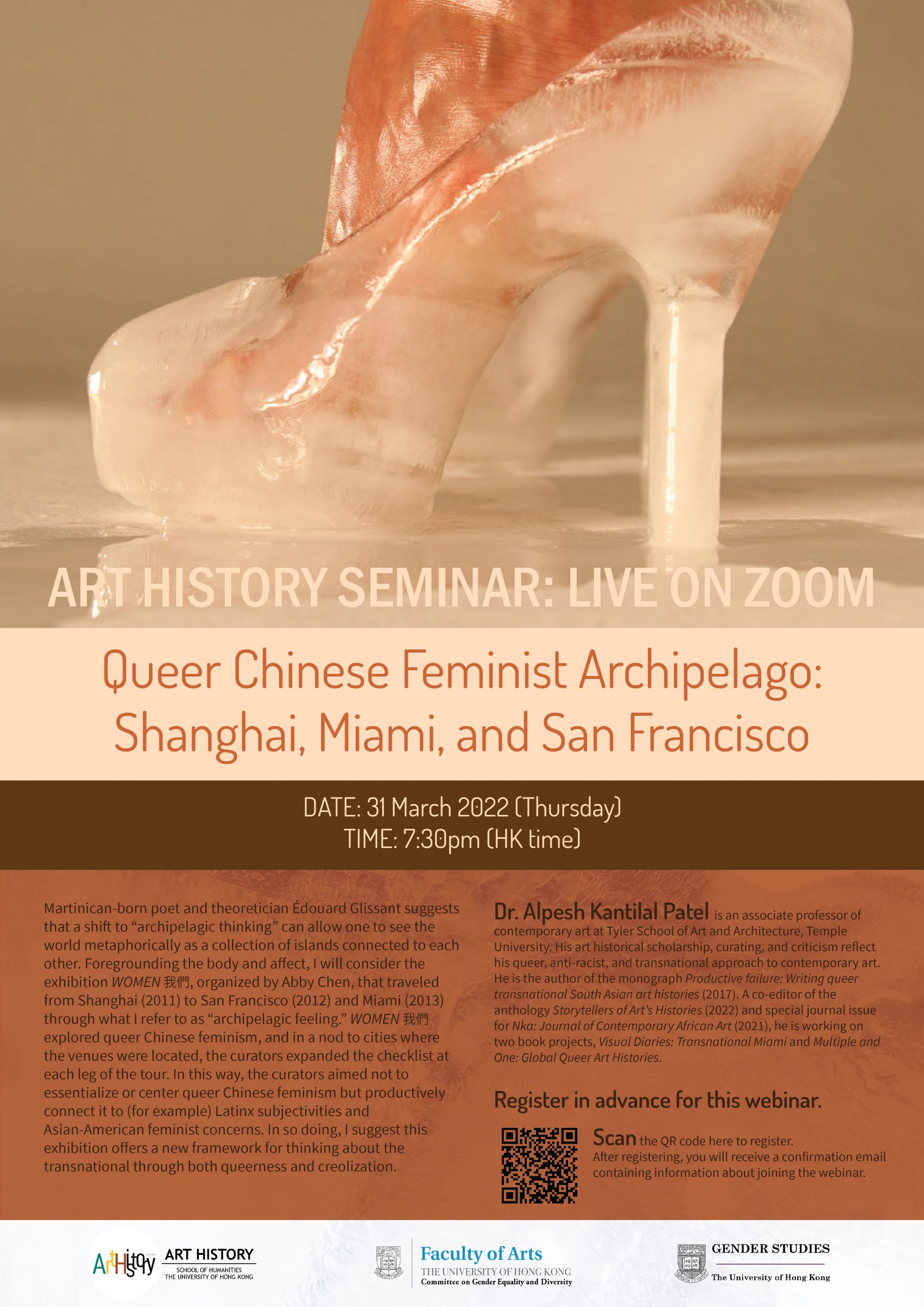 Queer Chinese Feminist Archipelago: Shanghai, Miami, and San Francisco
March 31, 2022 @ 7:30 pm

-

8:30 pm
Queer Chinese Feminist Archipelago: Shanghai, Miami, and San Francisco
Date: 31 March 2022 (Thursday)
Time: 7:30pm
Webinar Link: https://hku.zoom.us/webinar/register/WN_-0hC3rd-RXKtVCXctyqPbQ
Martinican-born poet and theoretician Édouard Glissant suggests that a shift to "archipelagic thinking" can allow one to see the world metaphorically as a collection of islands connected to each other. Foregrounding the body and affect, I will consider the exhibition WOMEN 我們, organized by Abby Chen, that traveled from Shanghai (2011) to San Francisco (2012) and Miami (2013) through what I refer to as "archipelagic feeling." WOMEN 我們 explored queer Chinese feminism, and in a nod to cities where the venues were located, the curators expanded the checklist at each leg of the tour. In this way, the curators aimed not to essentialize or center queer Chinese feminism but productively connect it to (for example) Latinx subjectivities and Asian-American feminist concerns. In so doing, I suggest this exhibition offers a new framework for thinking about the transnational through both queerness and creolization.
Speaker: Dr. Alpesh Kantilal Patel
Alpesh Kantilal Patel is an associate professor of contemporary art at Tyler School of Art and Architecture, Temple University. His art historical scholarship, curating, and criticism reflect his queer, anti-racist, and transnational approach to contemporary art. He is the author of the monograph Productive failure: Writing queer transnational South Asian art histories (2017). A co-editor of the anthology Storytellers of Art's Histories (2022) and special journal issue for Nka: Journal of Contemporary African Art (2021), he is working on two book projects, Visual Diaries: Transnational Miami and Multiple and One: Global Queer Art Histories.
Share this story!