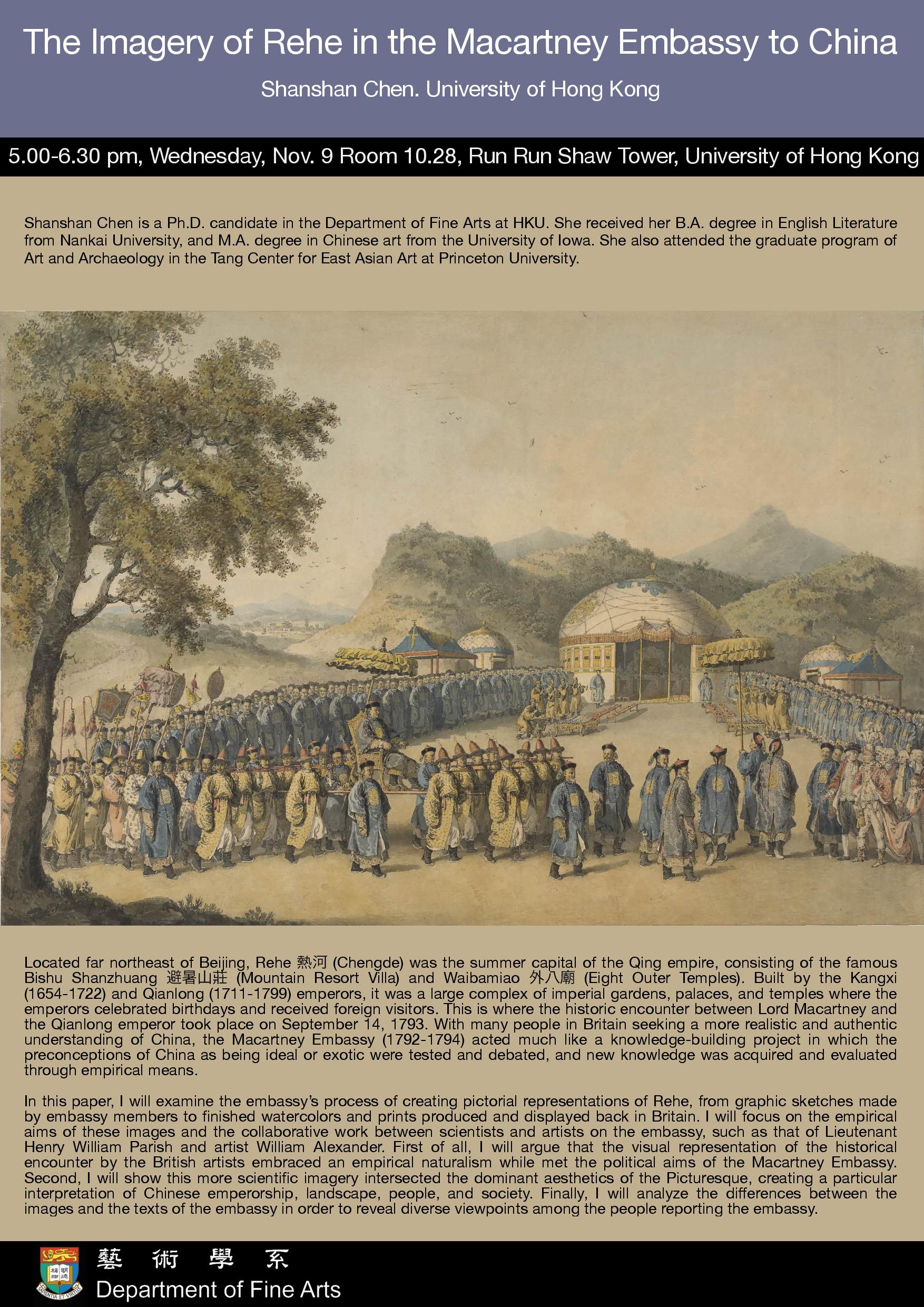 The Imagery of Rehe in the Macartney Embassy to China
November 9, 2016 @ 5:00 pm

-

6:30 pm
The Imagery of Rehe in the Macartney Embassy to China
Date: 9 November 2016 (Wednesday)
Time: 5:00-6:30pm
Venue: Room 10.28, Run Run Shaw Tower, Centennial Campus
Located far northeast of Beijing, Rehe 熱河 (Chengde) was the summer capital of the Qing empire, consisting of the famous Bishu Shanzhuang 避暑山莊 (Mountain Resort Villa) and Waibamiao 外八廟 (Eight Outer Temples). Built by the Kangxi (1654-1722) and Qianlong (1711-1799) emperors, it was a large complex of imperial gardens, palaces, and temples where the emperors celebrated birthdays and received foreign visitors. This is where the historic encounter between Lord Macartney and the Qianlong emperor took place on September 14, 1793. With many people in Britain seeking a more realistic and authentic understanding of China, the Macartney Embassy (1792-1794) acted much like a knowledge-building project in which the preconceptions of China as being ideal or exotic were tested and debated, and new knowledge was acquired and evaluated through empirical means.
In this paper, I will examine the embassy's process of creating pictorial representations of Rehe, from graphic sketches made by embassy members to finished watercolors and prints produced and displayed back in Britain. I will focus on the empirical aims of these images and the collaborative work between scientists and artists on the embassy, such as that of Lieutenant Henry William Parish and artist William Alexander. First of all, I will argue that the visual representation of the historical encounter by the British artists embraced an empirical naturalism while met the political aims of the Macartney Embassy. Second, I will show this more scientific imagery intersected the dominant aesthetics of the Picturesque, creating a particular interpretation of Chinese emperorship, landscape, people, and society. Finally, I will analyze the differences between the images and the texts of the embassy in order to reveal diverse viewpoints among the people reporting the embassy.
Speaker: Shanshan Chen
Shanshan Chen is a PhD candidate in the Department of Fine Arts at HKU. She received her BA degree in English Literature from Nankai University, and MA degree in Chinese art from the University of Iowa. She also attended the graduate program of Art and Archaeology in the Tang Center for East Asian Art at Princeton University.
Share this story!