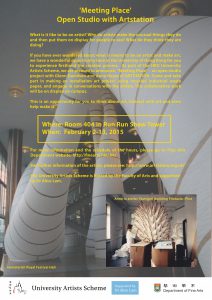 Meeting Place: Open Studio with Artstation
Please join our university artists Glenn Davidson and Anne Hayes of Artstation. There will be an open studio in Room 404 Run Run Shaw Tower between Feb 2-13. It opens from Monday to Friday, from 2 to 4pm. Come along, to chat and work with them to create a paper installation artwork that will be displayed on campus. We welcome students from all faculties to take part in this exciting project.
If you could not make the set opening hours, feel free to set up an appointment with Glenn and Anne by sending them an email (anne@artstation.org.uk / glenn@artstation.org.uk). You may also text or call them at 95303821. They are extremely flexible with the schedule and look forward to meeting you!