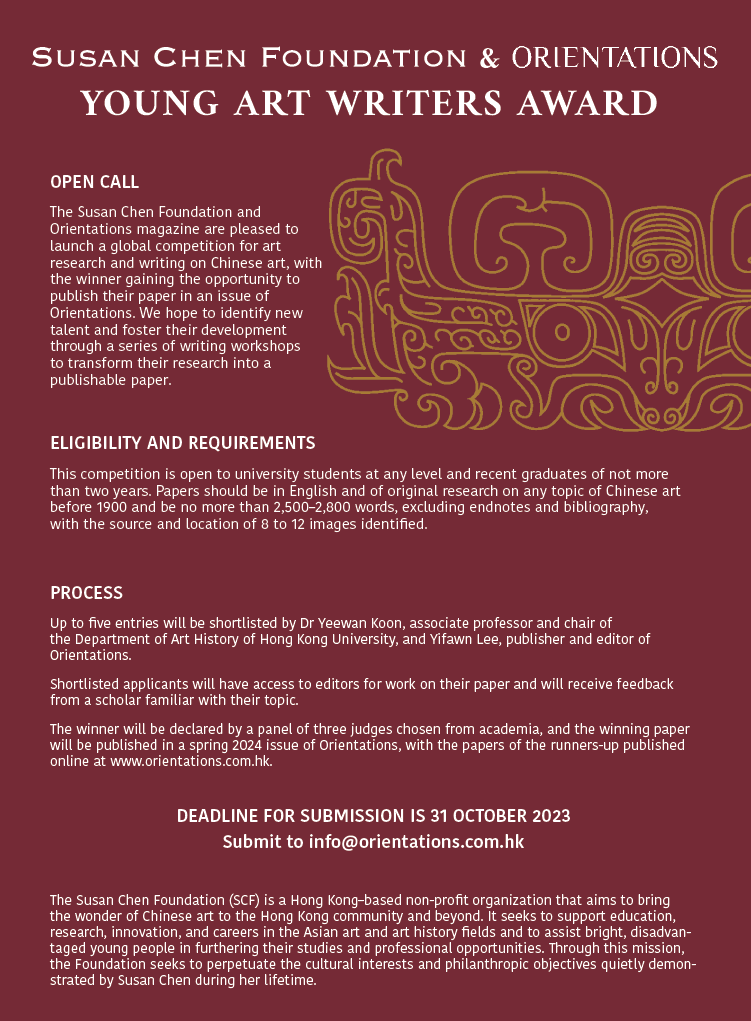 The Susan Chen Foundation and Orientations magazine are pleased to launch a global competition for art research and writing on Chinese art, with the winner gaining the opportunity to publish their paper in an issue of Orientations. We hope to identify new talent and foster their development through a series of writing workshops to transform their research into a publishable paper.
Eligibility and Requirements
This competition is open to university students at any level and recent graduates of not more than two years. Papers should be in English and of original research on any topic of Chinese art before 1900 and be no more than 2,500–2,800 words, excluding endnotes and bibliography, with the source and location of 8 to 12 images identified.
Process
Up to five entries will be shortlisted by Dr Yeewan Koon, associate professor and chair of the Department of Art History of Hong Kong University, and Yifawn Lee, publisher and editor of Orientations. Shortlisted applicants will have access to editors for work on their paper and will receive feedback from a scholar familiar with their topic. The winner will be declared by a panel of three judges chosen from academia, and the winning paper will be published in a spring 2024 issue of Orientations, with the papers of the runners-up published online at www.orientations.com.hk.
Deadline for submission: 31 October 2023 to info@orientations.com.hk
The Susan Chen Foundation (SCF) is a Hong Kong–based non-profit organization that aims to bring the wonder of Chinese art to the Hong Kong community and beyond. It seeks to support education, research, innovation, and careers in the Asian art and art history fields and to assist bright, disadvantaged young people in furthering their studies and professional opportunities. Through this mission, the Foundation seeks to perpetuate the cultural interests and philanthropic objectives quietly demonstrated by Susan Chen during her lifetime.