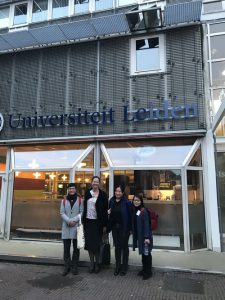 The Fine Arts Department at the Second China Middle Period Humanities: 800-1400 conference at Leiden University, September, 2017
The Department of Fine Arts had a strong presence at the "Second China Middle Period Humanities: 800-1400" international conference that was held at Leiden University, 14-17, September 2017. This conference brought together approximately 150 scholars who conduct research on the humanities of China during the ninth to fourteenth centuries. This prestigious conference first convened at Harvard University in 2014 and will gather for its third iteration in Singapore in 2020. The Department sent four scholars to Leiden to discuss research:
Current Ph.D. postgraduate Candy Ge Yau Leung discussed her research in the paper "Constructing a new pantheon of Confucian worthies: Portraits of four Yuan scholars," from her 2016 M. Phil. thesis entitled "Representing the Literatus: Portraiture and identity in Yuan Figure Painting," University of Hong Kong;
Lecturer Dr. Ruby Pui Yi Leung delivered the paper "Representing Universal Principle: Bamboo painting in Yuan-dynasty China (1271-1368)" which is based on research from her Ph.D. thesis "Bamboo in Principle: Ke Jiusi's (1290-1349) Paintings and Knowledge in the Yuan Dynasty (1271-1368)" completed in 2016, University of Hong Kong;
Current Ph.D. postgraduate Konstance Chun Tung Li presented on "The Khan's New Robes: Marking the Mongol Imperium's Presence in the Yonglegong Chaoyuantu Mural Painting," material from his M. Phil thesis, "Envisioning Authority: The Mongol Imperium and the Yonglegong Mural Paintings and Architecture" of 2012, University of Hong Kong; and
Associate Professor Roslyn Lee Hammers introduced her research in progress in a paper entitled "Nature manipulated: Artifice and hybridity in the Song-painting Calico Cat under Peonies."
In addition to discussing and debating their own research findings, members of the Department of Fine Arts enjoyed attending other sessions to hear and reflecting on the current state of research on the humanities of Middle-period China. They also managed to fit in a few excursions to see other museums in the environs of Leiden and were particularly taken by the exhibition, "The Great Liao: Khitan Relics from Inner Mongolia, China" at the Drents Museum in Assen, Netherlands.
More information about the conference and the Liao exhibition are available at these websites, Second Conference on Middle Period Chinese Humanities and the Drents Museum.