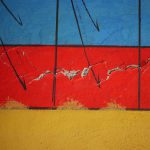 A History of Modern Art in 73 Lectures
A History of Modern Art in 73 Lectures by David Clarke is now available online at Prof Clarke's personal YouTube Channel solubleshark!
It is a series of lectures originally given to students of ARTH2028 Vision and Crisis (2015-2016), ARTH2029 Modernity and Discontents (2015-2016), and ARTH2030 Towards the Global (2016-2017) at the University of Hong Kong. With David's retirement, it is hoped that these edited sound recordings may help share his knowledge with a wider public, and continue to inspire individuals.
Prof Clarke's words on this lecture series
Click here.
Recap on the retirement party
Click here for the video highlight and here for photos.