The University Archives is one cool place! It houses a century of university documents. When you turn the wheels of the rolling stacks, when you open the box cover, when your fingertips touch a document far older than you, you savour every moment of discovery and imagination. One of the earliest official documents stored in the archives that concerns the teaching of Fine Arts at HKU is the 1965 Senate Minutes. The Senate received a notion from Convocation, "that, in view of the increasing number of young students in Hong Kong going abroad for the study of music and other art subjects, and to meet the needs of the community, the University of Hong Kong, should consider the establishment of a Department of Music and Fine Arts within the Faculty of Arts…" (document 32/625, 33/265: Appendix C).
Two speeches made at the meeting of Convocation, one by Dr Peter C Y Lee, and another by Miss M B Kotewall, who seconded Lee's motion, have been filed as appendices. Dr. Lee acknowledges the achievement of the Department of Fine Arts at the New Asia College, Chinese University of Hong Kong and explains its mission and degree structure. He then advocates:
"… we [HKU] must not duplicate the effort done by New Asia, but rather should compliment each other in our endeavours for the common cause. This can easily be done by setting a course of instructions to enable our students to get a sound knowledge of Western art and to assimilate the good points in Chinese art…"
We are global, right from this early vision of the Department of Fine Arts at HKU.
[The writing was first published on 30 August 2019, in celebration of the Department's 40th anniversary]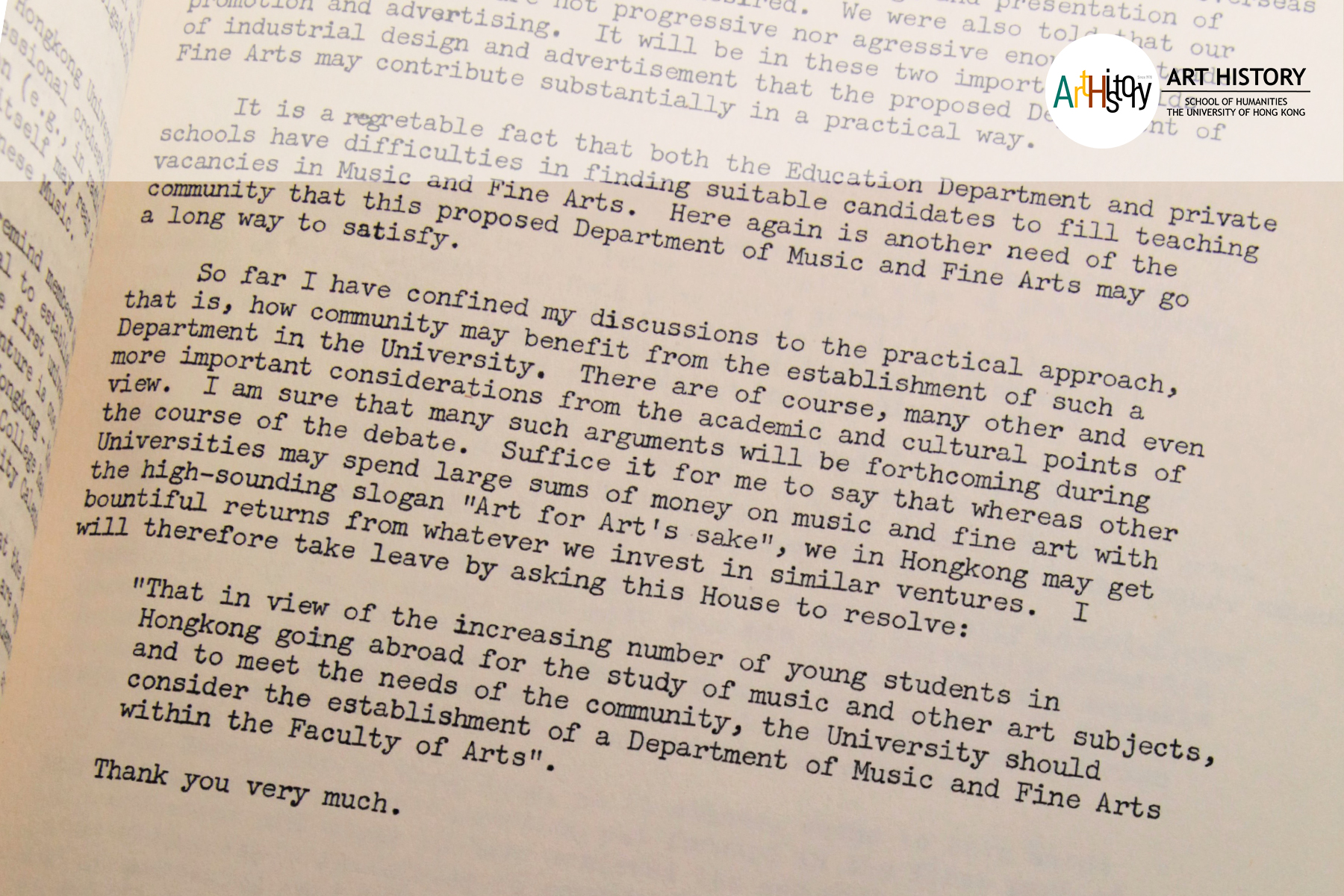 Learn more