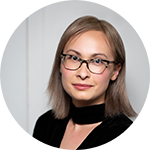 Part-time Lecturer 兼任講師
Email: acbae@hku.hk
Office: Room 10.24, Run Run Shaw Tower, Centennial Campus
BA UC Berkeley; MA Tsinghua University; PhD University of Michigan
Dr. Baecker teaches courses on modern and contemporary art, with a focus on the cultural history of the P.R.C. Her dissertation investigates representations of labor during the Maoist period, with chapters on socialist amateur art practice and discourses around artistic labor in the P.R.C. She has published widely on contemporary art for publications including ArtAsiaPacific, Artforum, Frieze, The New Statesman, and Vulture. She was previously an editor for the Chinese language Artforum website and a founding contributing editor to the magazine LEAP 艺术节. She has also worked as an art book editor in Beijing.
Modern and Contemporary Chinese art; Art Criticism and Practice; Socialist Visual Culture
Artistic Labor; Collective Art Practice; 1980s Art Groups; Historiography of Contemporary Art in the P.R.C.
Selected Publications
"The Blank Exam: Crises of Student Labour and Activism in the late Cultural Revolution film Juelie," in Proletarian China: A Century of Chinese Labour, eds. Ivan Franceschini and Christian Sorace. New York: Verso Press, 2022.
"Teaching Cultural Revolution Film through Production History," in Teaching Chinese Film, eds. Zhuoyi Wang, Emily Wilcox, and Hongmei Yu. New York: Modern Languages Association, 2022.
"Fan Labour and the Rise of the Boys' Love TV Drama in China," with Yucong Hao, East Asia Forum Quarterly 13, No. 2 (Apr–Jun 2021): 17–20.
"Amateur Art Practice and the Everyday in Socialist China," Made in China Journal Vol. 5, 1 (Jan–Apr 2020): 80-87.
"In Defense of Difficult Art at the Guggenheim's Controversial Exhibition," Vulture, Oct. 17, 2017.
Baecker, Angie, and Philip Tinari, eds. Hans Ulrich Obrist: The China Interviews. Beijing: Office for Discourse Engineering, 2009.
Yang Fudong: Seven Intellectuals in Bamboo Forest. Stockholm and Beijing: Jarla Partilager and Office for Discourse Engineering, 2008.
Baecker, Angie, and Lee Ambrozy, Peggy Wang, and Michelle Woo, eds. Making History: Wu Hung on Contemporary Art. Beijing: Timezone 8, 2008.
Conferences
"Consolidating the Contemporary: The Socialist Origins of '85 New Wave Group Art Practice," International Institute for Asian Studies 12, Kyoto, Aug. 2021.
"The Birth of a Genre: Conspiracy Film Criticism and the Gang of Four as Cinematic Auteur," European Association for Chinese Studies, Leiden, Aug. 2021.
"Painting a Revolution: Amateur Art Practice in China," Association for Asian Studies, Denver, Mar. 2019.
"Laboring Medicine: Barefoot Doctors and Revolutionary Cultures of Medical Practice in the People's Republic of China," American Association for the History of Medicine, Los Angeles, May 2018.
"Max Weber and Reform-Era China," AAS-in-Asia, Academia Sinica, Jun. 2015.
Awards
China and Inner Asia Council Research Travel Grant, Association for Asian Studies, 2021.
Arts Writers Grant Program, Creative Capital and the Andy Warhol Foundation for the Visual Arts, 2020.