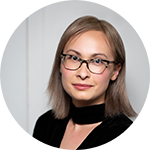 Lecturer 講師
Tel: 3917-7225
Email: acbae@hku.hk
Office: Room 10.16, Run Run Shaw Tower, Centennial Campus
BA UC Berkeley; MA Tsinghua University; PhD University of Michigan
Dr. Baecker specializes in the cultural and material history of modern China, with a focus on the socialist period. Her research interests include mass art practice, socialist amateurism, the material culture of the Cultural Revolution, and the postsocialist legacy in contemporary China. Her current book project, Worker, Peasant, Soldier, Artist: Mass Art in Socialist China, writes an alternative history of the Maoist fine arts project through the lens of the socialist amateur artist. By considering the making and exhibition of artwork by factory workers, rural commune members, and PLA soldiers, the book project asks how we might take seriously an art history that exists outside, or even in opposition to the art academy, particularly within the context of the P.R.C.'s highly centralized institutional apparatus for cultural production.
She received her PhD from the University of Michigan, holds an MA in modern Chinese literature from Tsinghua University, and a BA from UC Berkeley. She has been the recipient of grants and fellowships from the Andy Warhol Foundation, the Association for Asian Studies, and the Lieberthal-Rogel Center for Chinese Studies.
She teaches undergraduate and graduate courses on modern and contemporary Chinese art, and supervises graduate student research in the MA in Art History programme. In addition to her scholarly research, Dr. Baecker has published widely on contemporary art for publications including Artforum, ArtAsiaPacific, Frieze, The New Statesman, and Vulture.
Modern Chinese Cultural Studies; Mass Art; Material Culture of the P.R.C.; Art Criticism and Practice
Maoist Printed Cotton Textile Design; Art of the Cultural Revolution; Collective Art Practice; 1980s Art Groups; Historiography of Contemporary Chinese Art
Selected Publications
"The Hu Xian Peasant Art Exhibition" in Socialist Exhibition Cultures, eds. Sven Spieker, Polly Savage, Bojana Videkanic, Christine Ho, Vladimir Seput, and Tomas Glanc. Routledge, 2023.
"The Blank Exam: Crises of Student Labour and Activism in the late Cultural Revolution film Juelie," in Proletarian China: A Century of Chinese Labour, eds. Ivan Franceschini and Christian Sorace. New York: Verso Press, 2022.
"Teaching Cultural Revolution Film through Production History," in Teaching Chinese Film, eds. Zhuoyi Wang, Emily Wilcox, and Hongmei Yu. New York: Modern Languages Association, 2022.
"Amateur Art Practice and the Everyday in Socialist China," Made in China Journal Vol. 5, 1 (Jan–Apr 2020): 80-87.
"In Defense of Difficult Art at the Guggenheim's Controversial Exhibition," Vulture, Oct. 17, 2017.
Conferences
"High Socialist Toile: The Industrialization of Printed Cotton Textile Design and the Emergence of a Decorative Imaginary in the People's Republic of China, 1950s to 1980s," Weatherhead East Asian Institute, Columbia University, May 19-22.
"Soldier Sentimentality: Production and Military Social Relations in Socialist Amateur Art Practice," Association of Asian Studies, Hawaii, Mar. 25.
"Consolidating the Contemporary: The Socialist Origins of '85 New Wave Group Art Practice," International Institute for Asian Studies 12, Kyoto, Aug. 2021.
"Conspiracy Film Criticism and the Gang of Four as Cinematic Auteur," European Association for Chinese Studies, Leiden, Aug. 2021.
"Painting a Revolution: Amateur Art Practice in China," Association for Asian Studies, Denver, Mar. 2019.
"Laboring Medicine: Barefoot Doctors and Revolutionary Cultures of Medical Practice in the People's Republic of China," American Association for the History of Medicine, Los Angeles, May 2018.
"Max Weber and Reform-Era China," AAS-in-Asia, Academia Sinica, Jun. 2015.
Awards
China and Inner Asia Council Research Travel Grant, Association for Asian Studies, 2021.
Arts Writers Grant Program, Andy Warhol Foundation for the Visual Arts, 2020.
Current Courses
ARTH2117 The Amateur: Cultural formations of leisure, labor, and critique
ARTH3014 The whys and where: An East Asian art history of imaginative geographies
ARTH7002 Art history: materials, techniques, and collections
ARTH7004 Seminar in Chinese art
Past Courses
ARTH2051 Art, politics, and society in modern China
ARTH2061 Contemporary Chinese art
ARTH2101 Installation and participation
ARTH2112 Material culture of the People's Republic of China