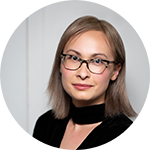 Part-time Lecturer 兼任講師
Email: acbae@hku.hk
Office: Room 10.24, Run Run Shaw Tower, Centennial Campus
BA UC Berkeley; MA Tsinghua University; PhD University of Michigan
Dr. Baecker teaches courses on modern and contemporary art, with a focus on the cultural history of the P.R.C. Her dissertation investigates representations of labor during the Maoist period, with chapters on socialist amateur art practice and discourses around artistic labor in the P.R.C. She has published widely on contemporary art for publications including ArtAsiaPacific, Artforum, Frieze, The New Statesman, and Vulture. She was previously an editor for the Chinese language Artforum website and a founding contributing editor to the magazine LEAP 艺术节. She has also worked as an art book editor in Beijing.
Modern and Contemporary Chinese art; Art Criticism and Practice; Socialist Visual Culture
Artistic Labor; Collective Art Practice; 1980s Art Groups; Historiography of Contemporary Art in the P.R.C.
Select Publications
Baecker, A.C. "Amateur Art Practice and the Everyday in Socialist China," Made in China Journal Vol. 5, 1 (Jan.–Apr. 2020): 80-87.
Baecker, Angie. "In Defense of Difficult Art at the Guggenheim's Controversial Exhibition," Vulture, Oct. 17, 2017.